6 Steps to Better One-on-One Employee Meetings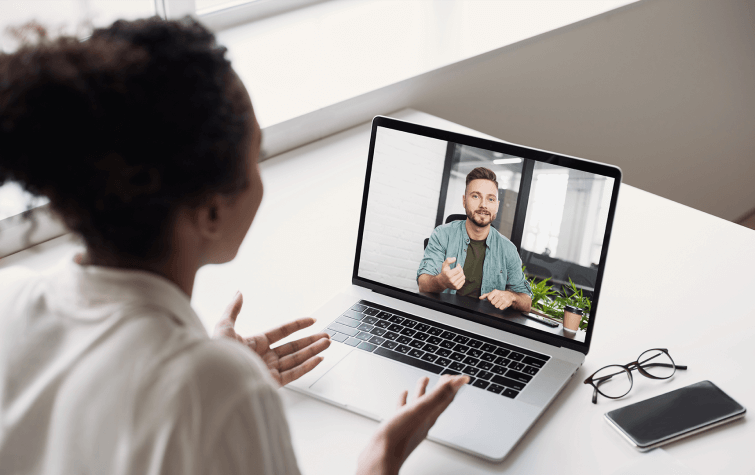 Managing people can be challenging, especially when supporting globally dispersed teams. Your job as a manager is to ensure that the individuals and teams under your leadership are engaged at their highest level. One-on-one meetings are an important tool to help achieve that, but only if they are done well. How can you turn one-on-one meetings from what can sometimes be viewed as dreaded infringements on busy schedules, into welcomed opportunities for collaboration and connection? Here are six important ways.
Be Punctual
Sure, we all get delayed occasionally due to an unexpected hiccup in our day. But don't let lax schedules and tardiness become a habit in your one-on-one meetings. When you arrive late, you are showing that employee that they and their time with you are not valued. Your time together is also less likely to be productive. A recent study by Bain & Company found that meetings that start just five minutes late tend to be eight percent less productive.
Be Prepared
If you are meeting remotely, set a calendar alert for 10 minutes prior to the meeting start time. Log on, check your audio, and video settings, make sure any reference materials are in hand and give the agenda another review, all before the designated start time.
Research from recruiting firm Zippia, found that organizations spend about 15% of their time on meetings – and nearly three-fourths (71%) of those are considered unproductive. Zippia estimates that being unprepared can cause an estimated $37 billion in lost productivity.
Don't let your one-on-one employee meetings fall into that category. The Making of a Manager author Julie Zhuo writes, "It's rare that an amazing conversation springs forth when nobody has a plan for what to talk about." Make a commitment to never hold a meeting without first creating an agenda. Ask the employee to share agenda items in advance so that you both have time to prepare.
Need help coming up with agenda items? Camille Fournier, author of The Manager's Path, advises keeping an ongoing list of notes in a shared document that both you and the employee can access. "For each person you manage, maintain a running shared document of notes, takeaways, and to dos from your 1-1," says Fournier. "This is helpful for you to keep context about what has happened, and is useful for remembering when and what feedback was given."
Be Constructive
View your one-on-one meetings with employees as dedicated time to really get an understanding of the employee's work pulse. While some time devoted to status updates is fine, resist the tendency to turn your one-on-ones into merely project updates. That's what your company's project management technology platform is for!
Instead, take advantage of your time with each employee to talk about any issues, challenges or roadblocks, their personal priorities, and to get a general idea of how your employees are feeling.  Keep the tone conversational and collaborative – not a critique or performance evaluation.
Be Focused
No doubt, while you are meeting, your email and group chat likely is sending a steady barrage of messages unrelated to your meeting. Put away your cell phone, mute email notifications and ignore screen popups. Give your employee the respect of your undivided attention for the designated meeting time.
Value Listening
It may come as a surprise to some managers, but a one-on-one is the employee's meeting. Let the employee do most of the talking; your job is to be an active, engaged listener.
You may find some employees need conversation starters. Ben Horowitz, who wrote A Good Place to Work, suggests these:
 If we could improve in any way, how would we do it?
 What's the No. 1 problem with our organization? Why?
 What's not fun about working here?
 Who is really doing well in the company? Who do you admire?
 If you were me, what changes would you make?
 What's the biggest opportunity that we're missing out on?
 What are we not doing that we should be doing?
 Are you happy working here?
Be Creative
Let's all just say it: even the word "meeting" can be a yawner. The sad reality is that we've all sat through way too many unorganized, unnecessary, unproductive meetings which tend to give meetings a bad name. So, why not get put a new spin on your one-on-ones? Get outside. Find a secluded corner in a coffee shop. Grab lunch together. Turn your meeting into a walk. Stanford University found that people's creativity increases by some 60 percent when they are walking, and the benefits continue even afterwards.
Radical Candor author Kim Scott sums it up this way: "Your mindset will go a long way  in determining how well the 1:1s go. I found that when I quit thinking of them as meetings and began treating them as if I were having lunch or coffee with somebody I was eager to get to know better, they ended up yielding much  better conversations."
Summary
One-on-one meetings are an important way for managers to connect with employees and gain valuable insights for improving your team's productivity. Doing so will create an environment where your employee is more productive, loyal to loyal to your company, and feels valued. Want to build stronger collaboration and communication with your employees and make your one-on-one meetings more effective? Ask CapRelo's global mobility experts for best practices for improving your employee one-on-ones.