Average Salary Comparison By Country and Job Role
Last updated: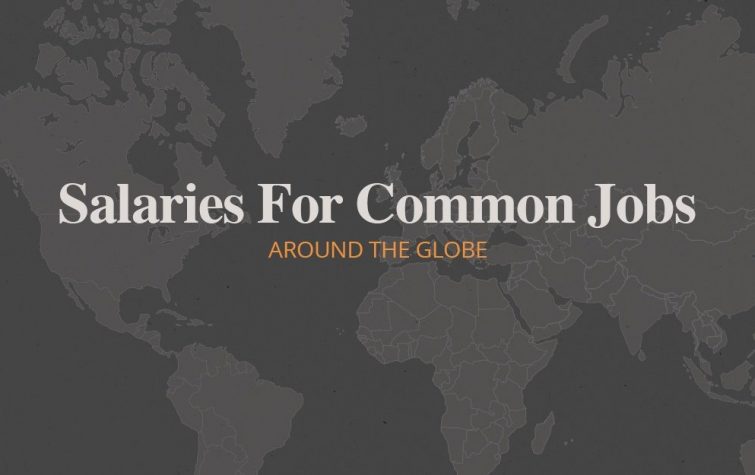 "It's a tough job, but somebody's gotta do it."
This phrase has become a cliché over the years, but like most clichés, it endures because there is truth in it. All around the world, there are jobs that need to be done, and people that are willing to do them, even if the work is hard and the compensation is sometimes lacking.
As experts in global relocation services, here at CapRelo, we strive to better understand the global workforce in any number of industries. To that end, we recently took a look at the global average salary for a variety of jobs across several common fields, and we found some very interesting results that we just had to share.
 Salaries for Common Jobs Around the Globe
As experts in global relocation services, here at CapRelo, we strive to better understand the global workforce in any number of industries. To that end, we recently took a look at the average salary by country for a variety of jobs across several common fields, and we found some very interesting results that we just had to share.
Average Minimum Wage Salary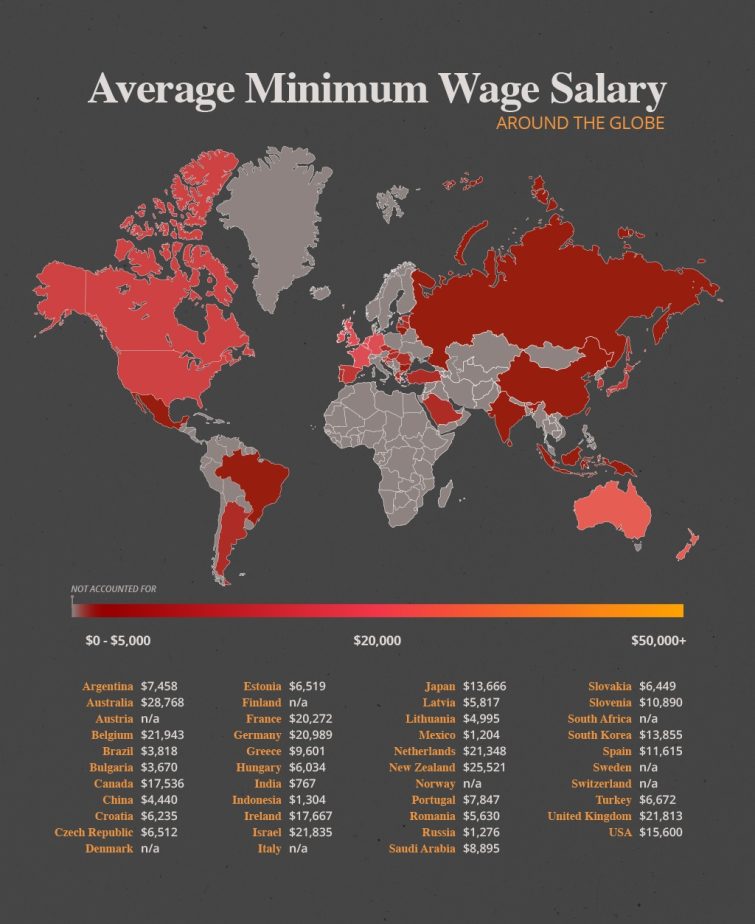 For the specific jobs we researched, we relied on self-reported salary information supplied by workers from around the globe. Before we get to those graphics, however, we wanted to supply some additional context and perspective by finding out what the annual salary by country would be if workers were paid their nation's federal minimum wage, regardless of job title. Several countries such as Norway and Sweden do not have federally mandated minimum wages, instead relying on other processes such as union negotiations within each industry to set standards. In those cases, we have listed a minimum wage as "n/a."
Average Nurse Salary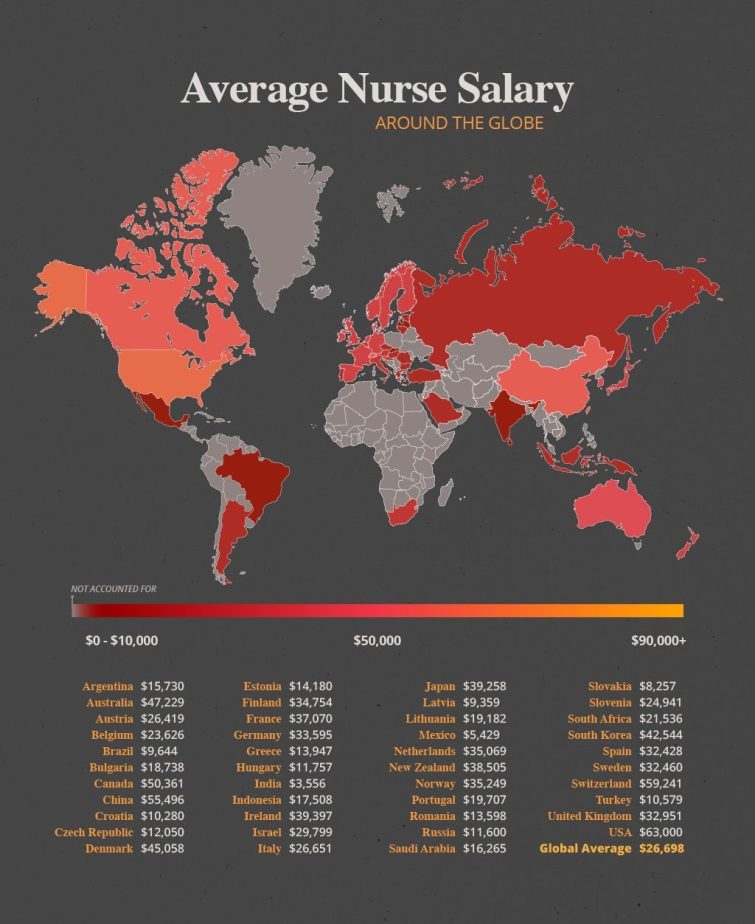 One of the jobs we were most interested to look at in this study was the nursing field. While doctors are known for making lots of money and are glorified on medical television shows and in the popular conscience at large, anyone working in the medical field in the real world knows that nurses are a truly indispensable part of any medical team.
Our job salaries comparison found that pay for nurses varies widely across the globe from $3,556 annually in India to $63,000 in the United States. It is worth noting that while the amount paid to nurses in India may seem low compared to those in the US and other countries, that $3,556 figure represents an annual salary over 4 times higher than the annual minimum wage in that country.
 Average Teacher Salary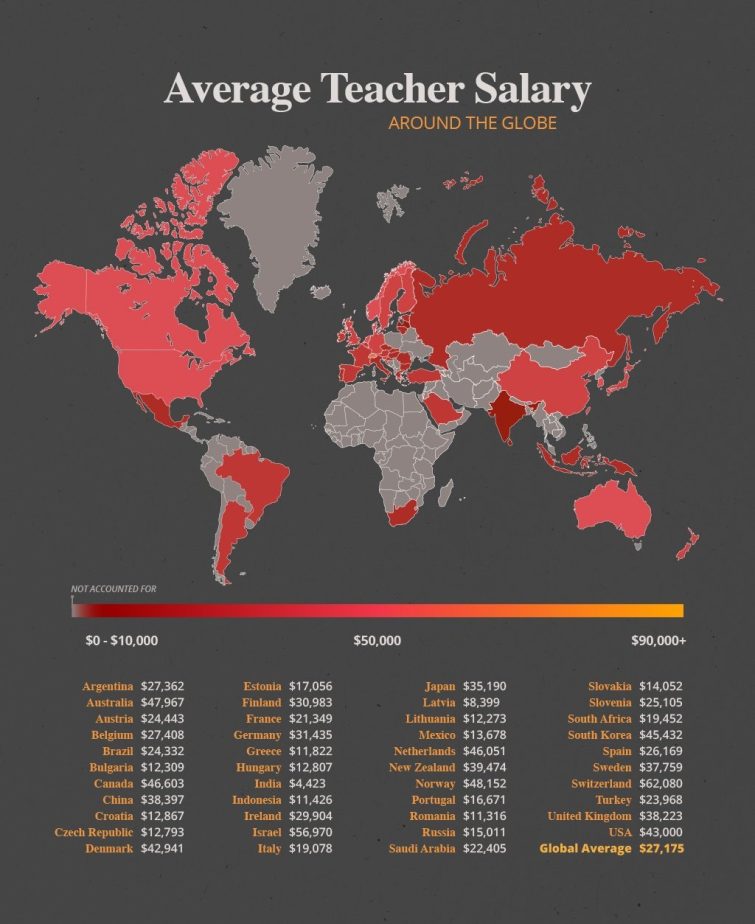 Here in the US, education has a reputation for being an undervalued profession, with many teachers fighting for higher pay and job support in recent years.
While American teachers were among the top-10 highest paid in our analysis, they earn almost $20,000 a year less than the average teacher in Switzerland, the country that compensates their educators most highly. It is interesting to look at these salaries through a lens of relativity, as teachers in the US make less than 3 times the national minimum wage, while those in the country with the lowest minimum wage – India – make over 5.5 times their nation's minimum wage. The global average salary for teachers exceeds that of nurses.
 Average Food Server Salary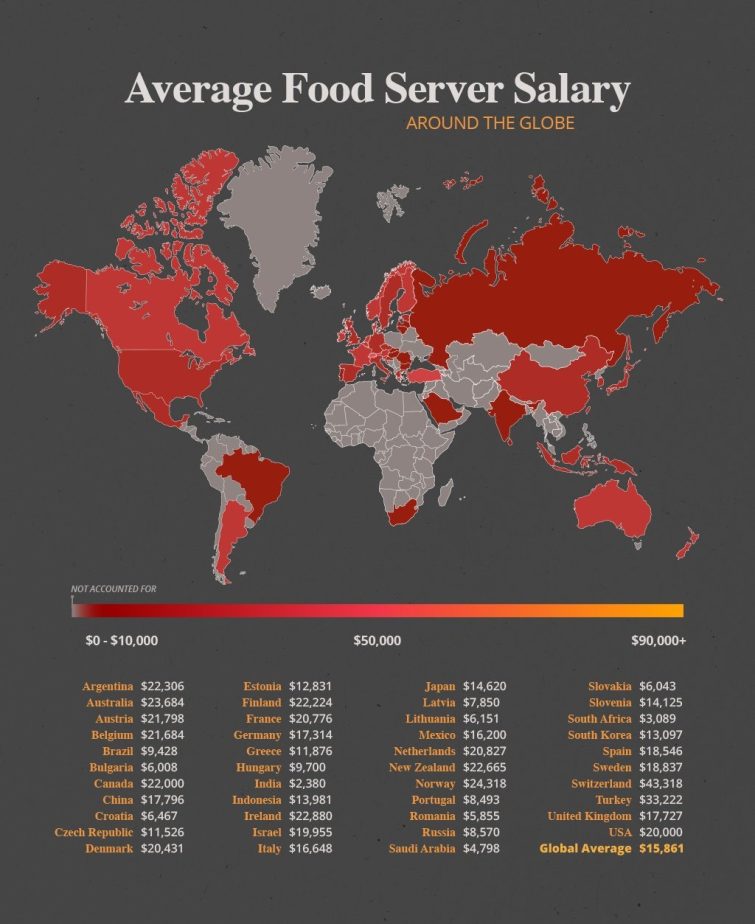 Like the education industry, there is a strong movement in the US to increase pay for food service industry workers. Our analysis found that it's not just America where food servers receive low pay, as there are only two countries – Switzerland and Turkey – where workers in this industry average more than $30,000 a year in earnings. Based on our overall analysis of salaries by jobs, this was also the role with the lowest average global salary, clocking in at $15,861.
Average Retail Associate Salary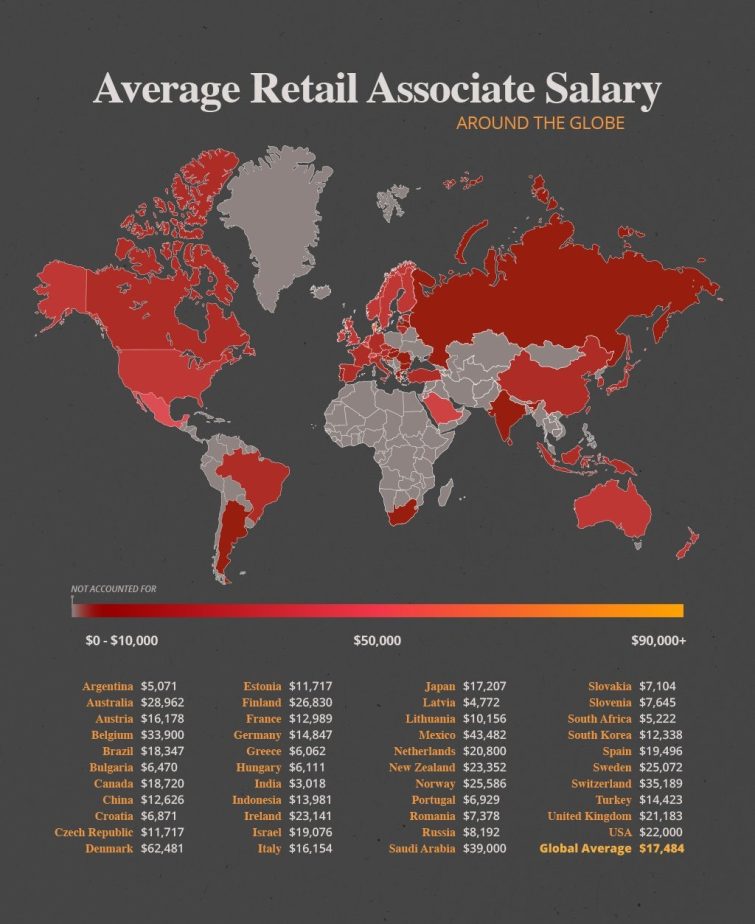 Salaries for retail associates are similar to those of food service industry workers. People who work in this industry keep malls, boutiques, and everything in between running smoothly, but in the US, they are paid only slightly more than food servers, a trend that is fairly common around the world.
Average Accountant Salary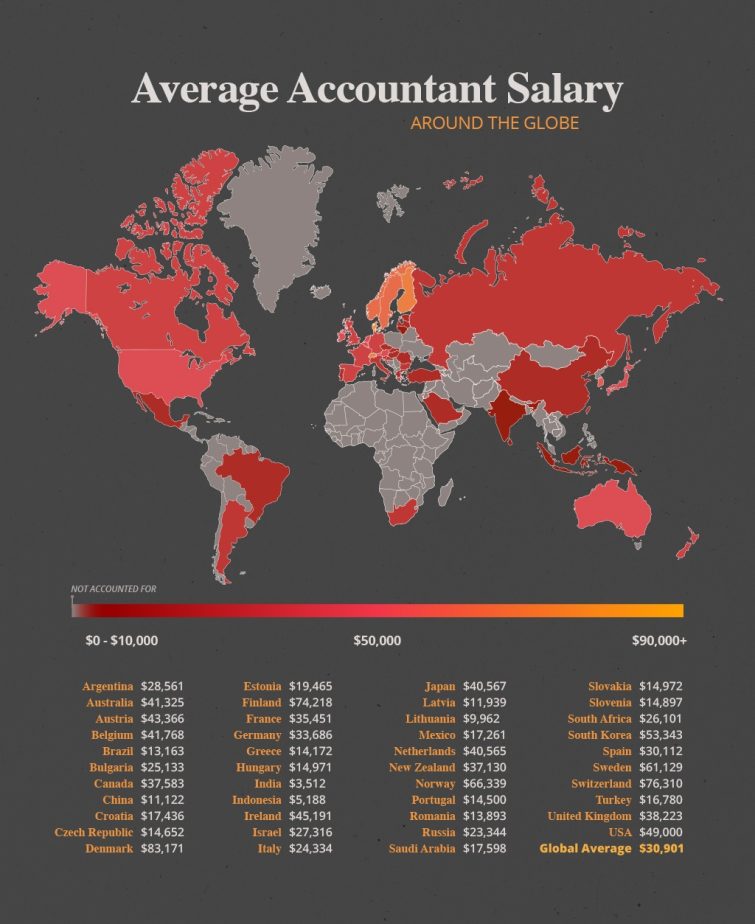 The next industry we examined was accounting. As is true for many jobs we evaluated, accountants in Scandinavian countries like Denmark, Sweden, Finland, and Norway are the highest paid, along with those in Switzerland. It is worth noting that while those nations pay well for most jobs, they also typically have high tax rates. Of those five nations in our analysis that pay accountants over $60,000 a year, only Switzerland has an income tax rate lower than 27%.
Average HR Manager Salary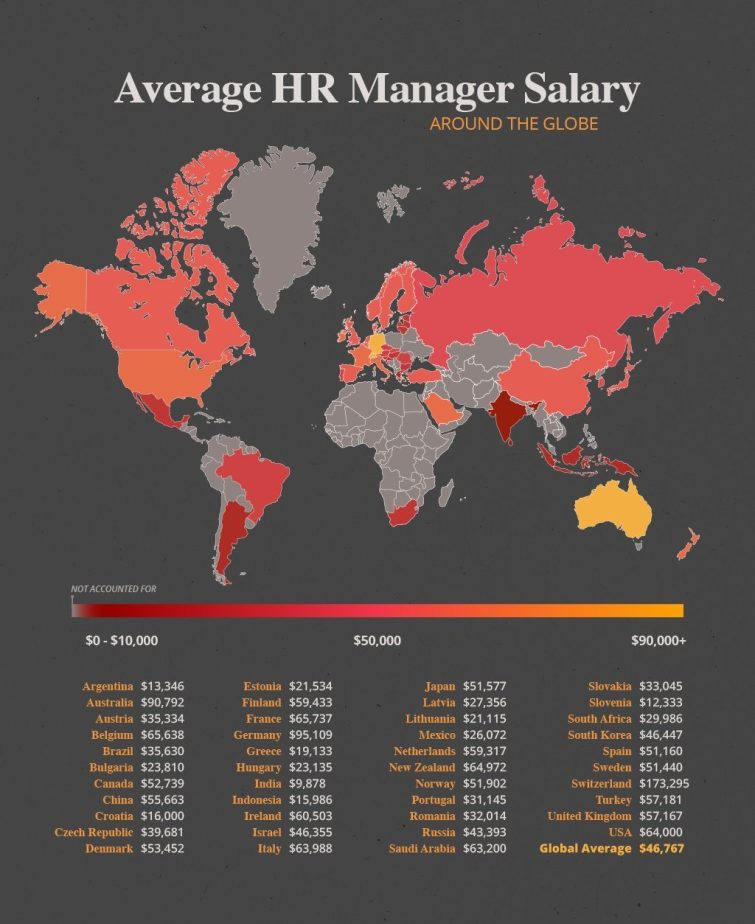 A crucial part of any company is the human resources department. When looking at the average salaries for HR managers around the world, we found that they are typically well above the national minimum wage, with Switzerland even averaging six-figure salaries for high-level human resources managers. In fact, of the nine professions evaluated for this project, HR managers had the highest average global salary at $46,767.
Average Software Engineer Salary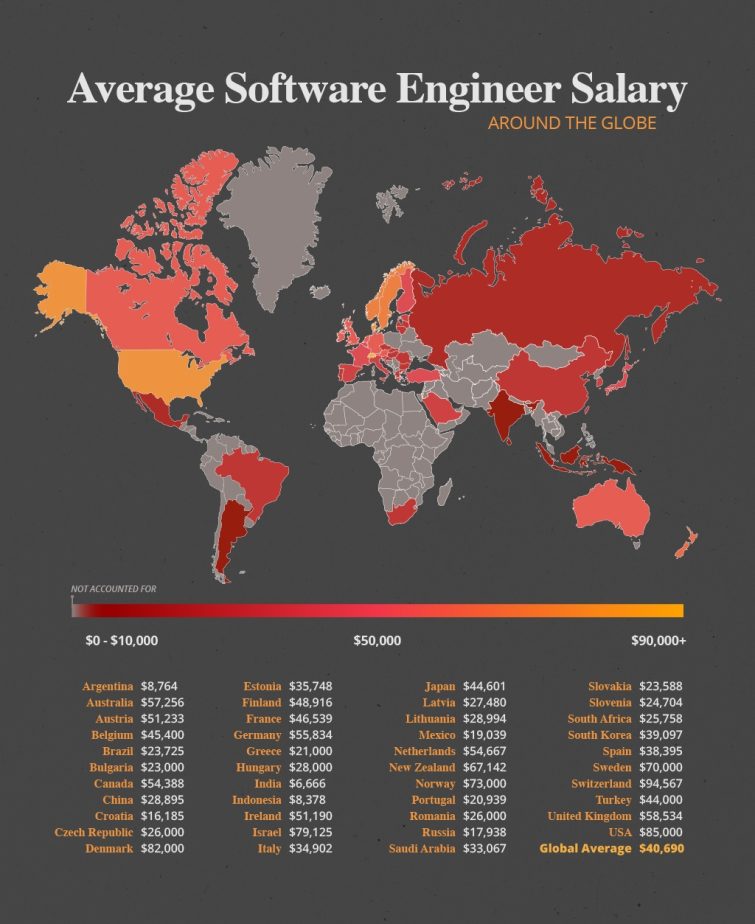 As technology plays such a prominent role in modern society, we wanted to evaluate how those that develop some of that technology, general software engineers, are paid. Unsurprisingly, given the prominence of Silicon Valley to the American economy, this was the job with the highest salary in the US of all the professions we evaluated in this study. The $85,000 average salary for an American software engineer was the second highest in the world, trailing only Switzerland's $94,567.
Average Operations Manager Salary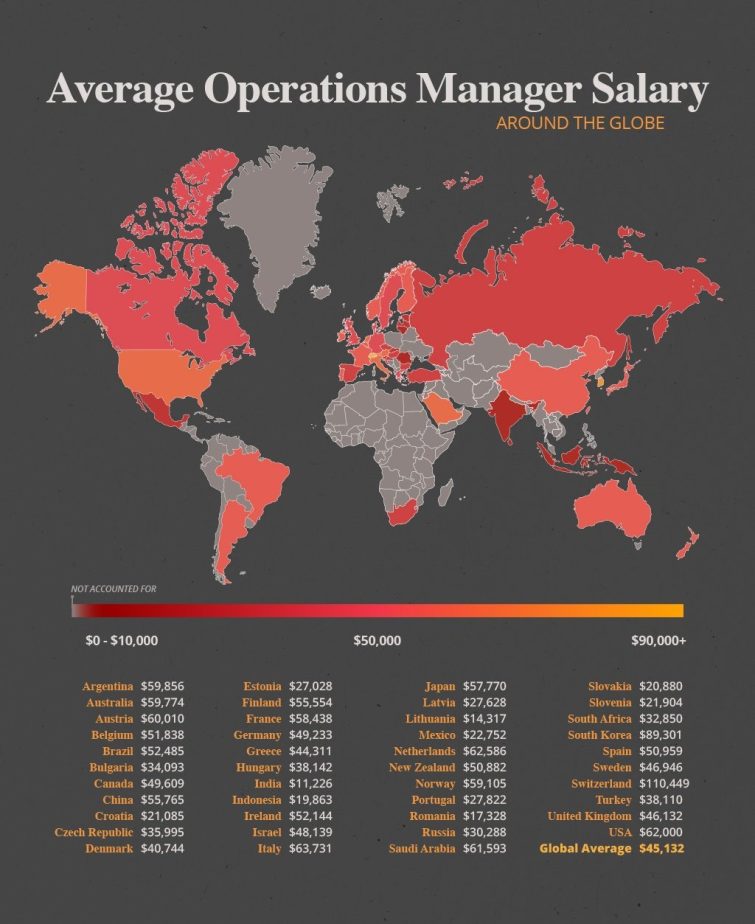 Finally, we wanted to look at a pair of job titles that are incredibly important to so many companies even though their specific duties can differ from industry to industry. First, is operations managers, which typically oversee a company's production process. People in these jobs are crucial to running an efficient and profitable business and are often paid as such. Almost 20 of the countries we examined pay operations managers over $50,000 a year on average, which helped bring the global average to over $45,000 annually.
Average Project Manager Salary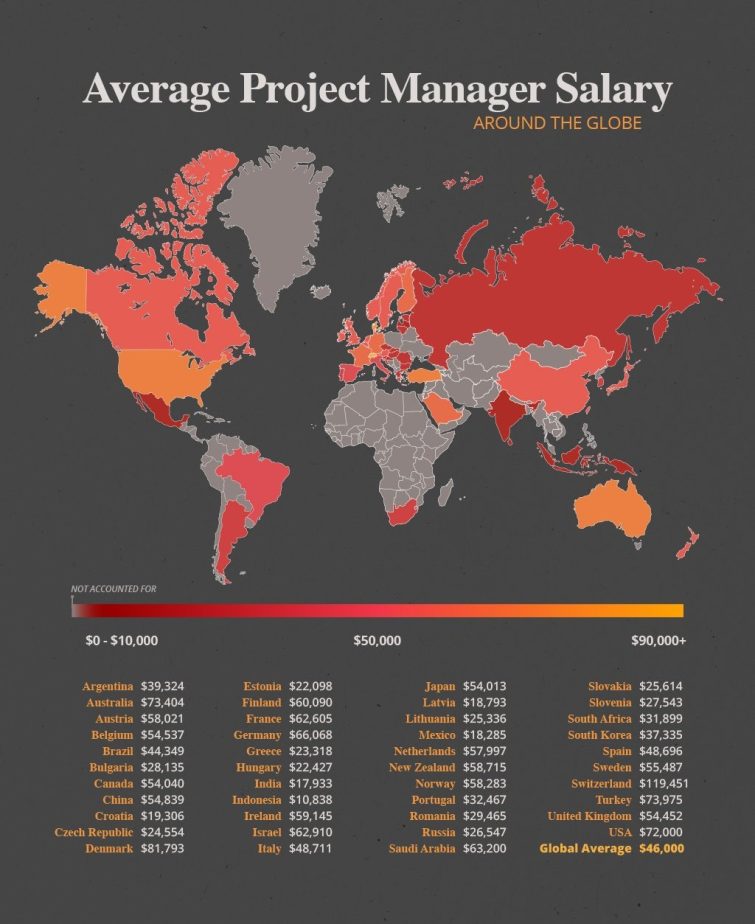 The last salary we evaluated was that of project managers. The duties associated with this title can vary even more than those of operations managers. While the job responsibilities for this role can vary, compensation remains consistent. Project managers and operations managers were the only two professions in our study that paid at least $10,000 annually in all 43 countries evaluated.
Salary Comparison by Country: Final Thoughts
When it comes to salary comparisons by country, this analysis covered just a sliver of the global workforce, but here at CapRelo we found even that little bit to be truly illuminating. Different nations emphasize different professions, but we must remember to keep our evaluations in perspective based on widely varying national minimum wages.
Whether your job was a part of this analysis or not, we hope it has been interesting and informative. And if you or your company are considering a move to another country, remember that CapRelo offers world-class global mobility services to simplify any such move! We even offer guidance on a range of topics from how to develop a competitive relocation package to writing an employee transfer letter and understanding reimbursed moving expenses.