What is a Global Mobility Specialist?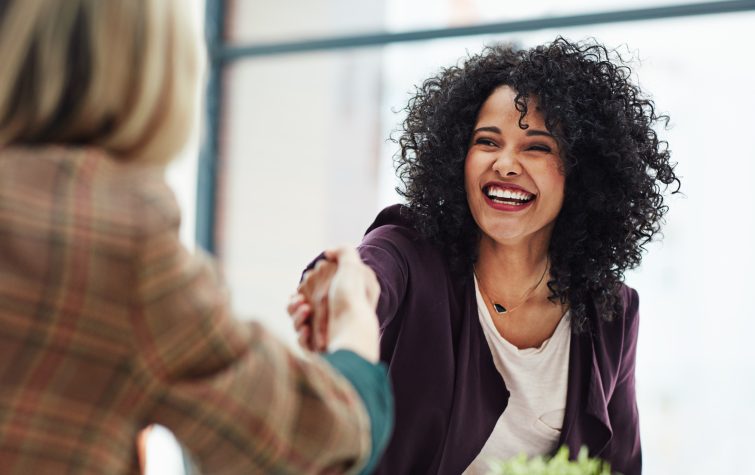 The Global Mobility Specialist program began in 2004 by Worldwide ERC® with the development of the Global Mobility Specialist (GMS®) designation. The program was designed to bring education and enhancement to the principles and practices of global workforce mobility and intercultural management skills. More than 6,500 mobility professionals in 71 countries have since earned this highly regarded designation.
Just as individuals earning a Business Administration degree in college often go on to earn an MBA, professionals in many segments of the employee relocation industry often seek special certifications that attest to their expertise, knowledge, and experience gained over many years.
The Benefits of Having GMS Designees on Your Account
The Global Mobility Specialist (GMS®) designation identifies professionals involved in employee relocation as being educated and skilled in all aspects of global workforce mobility. Program curriculum covers culture and diversity, compensation and benefits, global talent mobility policy management, program management, risk mitigation and strategic talent mobility.
This level of education and commitment to the industry brings excellence to your program and service to your employees. According to an article by Forbes Councils Member and founder and CEO of Seek Capital, Roy Ferman, companies that invest in their employees see increased productivity, improve their bottom line, attract new talent and retain great talent. CapRelo supports our staff earning their CRP® and GMS® designations as they represent excellence in the global mobility industry.
Why the GMS® Designation Is Important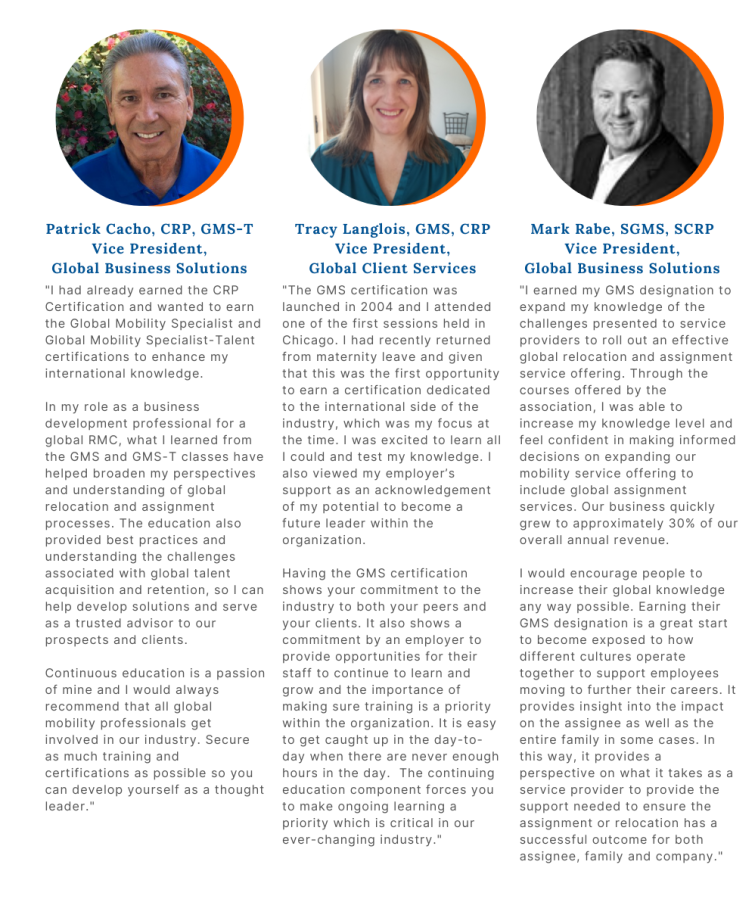 To maintain a GMS® designation, one needs to complete Continuing Education (CE) courses every three years. The GMS® program targets training and education for global mobility requirements, which can be much more complex than domestic relocations.
Having this designation or working with someone who has this designation can help in the following circumstances:
You are an HR professional administering international relocation policies and programs.
You function as overseer and manager of global relocations that are administered by a third-party professional relocation firm.
You advise, consult or facilitate buying or selling international real estate or deal with legal issues involved in international real estate transactions.
You have responsibilities for effective management of global tax issues and foreign taxation differences that affect transferees.
You are responsible for satisfying immigration requirements for employees relocating to foreign countries.
With no prerequisites or eligibility requirements, the GMS® program was designed to instill a commonality of understanding and education in those with the designation and serve as a differentiator for those wishing to elevate their career. The coursework can be completed entirely online via the Worldwide ERC® Learning Portal.
Worldwide ERC® enlists a member-driven GMS® Certification Review Board that helps ensure the program curriculum remains current. This means you'll work with individuals who always receive pertinent information, whether they are pursuing their GMS® certification or continuing education credits to maintain their designation. Working with a certified GMS® is an important advantage to your transferees. Whether relocating domestically or internationally, transferees will appreciate the benefits of their certified knowledge.
The Senior Global Mobility Specialist
For GMS® designees who contribute their expertise on Worldwide ERC® committees, panels, classes, and online commentary, Worldwide ERC® offers a Senior Global Mobility Specialist (SGMS®) designation. Individuals who earn this level of recognition make significant contributions to the relocation and mobility industry and wish to attain even higher levels of expertise.
HR teams and relocating employees rely on expertise from their relocation management partners. Click here to connect with a client service expert today.