Reducing Food Insecurity – One Meal at a Time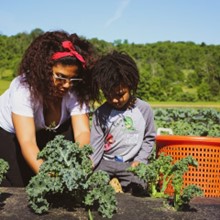 In its inaugural year, 2018, the Farm commenced operations on a small scale, cultivating crops on just one acre of its sprawling 150-acre property. The subsequent year marked a significant expansion, with the Farm's footprint increasing to seven acres and the addition of a dedicated beekeeper to enhance pollination.
Fast forward to today, and the Farm has reached remarkable milestones. Thanks to the collaborative efforts of corporate and community volunteers, it is poised to yield an impressive harvest exceeding one million pounds of fresh fruits and vegetables. These bountiful yields will go a long way in providing over 250,000 nourishing meals to families facing food insecurity.
The Farm proudly collaborates with other nonprofits such as Loudoun Hunger Relief, Food for Others, and Arlington Food Assistance Center, leveraging these partnerships to efficiently distribute food to local pantries. This commitment to addressing hunger earned our enterprise recognition as one of the Washington Business Journal's Top Corporate Philanthropists in 2023.
Moreover, the Farm serves as a beacon of sustainable agriculture, showcasing initiatives like a sophisticated compost system, rainwater harvesting, and drip irrigation methods. In the Farm's quest to share this sustainable ethos worldwide, they have developed the Community Farm playbook and mentoring program, empowering advocates globally to establish and serve their own local communities.
Education is a core element of the Farm's mission, and it operates a comprehensive food education curriculum that aligns with Virginia's learning standards. Through informative field trips, the Farm educates students about nutrition and agriculture, nurturing a deeper understanding of the food ecosystem.
From its modest beginnings to its current impact, the Community Farm demonstrates a steadfast commitment to sustainable agriculture, community well-being, and global outreach through education and mentorship.
2023 Donation Highlights
1,000,000+ lbs. of food grown for local food pantries
250,868 Meals delivered to families in need
$34,061.16 ytd. Employee Contribution to the Community Farm
4,500+ Volunteers across Corporate and Community Events
Join the Fight Against Food Insecurity: Learn how you can help!
Feed America Facts About Hunger
In 2022, 49 million Americans relied on food banks and community programs to meet their nutritional needs.
Food insecurity is a nationwide concern, affecting every single one of the 3,144 counties in the United States.
The Feeding America network will continue to support our neighbors and communities who are disproportionately impacted by hunger.
Sharing, Volunteering, Pledging, Learning, Fundraising, and Donating are just a few ways we can all join to fight food insecurity.