Environmental Sustainability
Our Commitment to a More Sustainable Future
CapRelo holds a Bronze EcoVadis Sustainability Rating for our focus on the environment, labor and human rights, ethics, and sustainable procurement.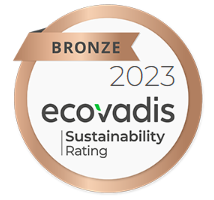 At CapRelo, we are deeply committed to environmental stewardship, and our dedication to sustainability is ingrained in our corporate culture. Since 2000, our Sustainability Task Force has been driving our eco-conscious initiatives, ensuring we play our part in preserving our planet for future generations.
Environmental Values & Policy
Our commitment to minimizing our environmental impact is evident in our Employee Handbook, which prominently features our Environmental Values Statement and Environmental Policy. These documents articulate our pledge to educate our employees and uphold best practices that safeguard the environment.
Green Office Practices
Within our office locations, we prioritize sustainable practices. We have embraced paperless workflows and implemented earth-friendly policies. We have also invested in energy-efficient upgrades, such as installing new windows and doors, as well as energy-saving compact fluorescent lights (CFL), to reduce power consumption and lower our carbon footprint.
Sustainable Supply Chain
Our commitment to environmental responsibility extends throughout our supply chain. We rigorously evaluate our suppliers based on environmental impact and sustainability criteria. We maintain industry-specific supplier agreements that enforce stringent sustainability goals, ensuring our supply chain aligns with our commitment to a greener future.
Offsetting Carbon Footprint with ecolegIT
We are proud to offer our clients the opportunity to offset the carbon footprint associated with their moves through our partnership with ecolegIT. This program not only offsets CO2 emissions from individual moves but also advocates for structural changes in the moving and global mobility industry to promote sustainability.
Preserving Biodiversity through Conservation
Our sister company, JK Land Holdings, has taken a significant step towards environmental preservation by purchasing 20,000 acres and placing them into conservation easement. This proactive move reflects our genuine passion for safeguarding the historic biodiversity of Loudoun County, Virginia.
Discard & Donate Program with Home Sweet Home
CapRelo has teamed up with Home Sweet Home to help our employees reduce their possessions before moving. This not only saves on shipping costs but also reduces their environmental impact. Home Sweet Home assists employees in sorting through their belongings to identify items for donation or disposal. They also provide tax receipts for donated items, allowing employees to claim donation values on their tax returns.
This initiative not only reduces the weight of our employees' household goods, resulting in cost savings for our clients, but it also minimizes the use of packing materials, helping to save trees. Additionally, our moving company consumes less fuel because of reduced weight. Over the past two years, we have saved 1,239,088 pounds in donated possessions.
In addition to our Discard & Donate program, Home Sweet Home also offers a "Save a Tree, Plant a Tree" initiative. For every tree that Home Sweet Home clients save by using their services, the organization donates to plant three trees through the U.S. Forest Service, further contributing to reforestation efforts.