At Our Core: Values and People – First Annual Core Value Winners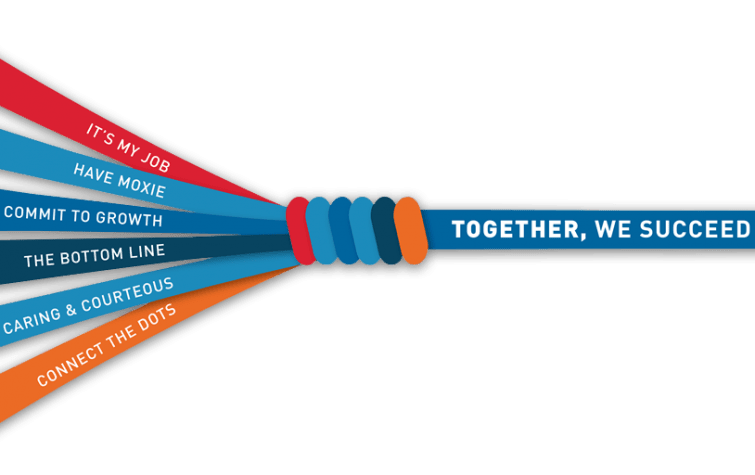 At CapRelo, we embody our values every day, in every interaction and every relationship. And as our clients and partners will attest, our values are at the center of everything we do, so this month, we honored our employees who truly go above and beyond with a Core Value Award. In its inaugural year, employees nominated their colleagues for a value (or all of them!) and the executive team chose the most compelling entries. Each entry was celebrated, and winners received recognition and tokens of appreciation. "The biggest win through starting this award program was all of the entries. Over 50 well thought-out, sincere nominations from across the enterprise – sometimes across business unit! This shows the heart that drives our enterprise and how we work collaboratively and collectively for success," said Chuck Kuhn, Founder of CapRelo, CEO JK Moving Services.
Be caring and courteous
Liz Simmons, Region Manager, APAC & EMEA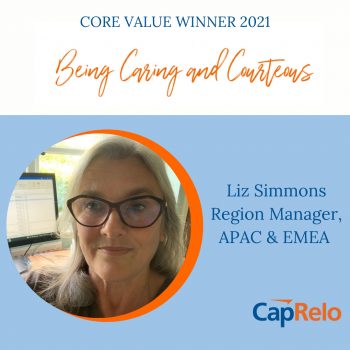 Life can be stressful for our coworkers, suppliers and customers. When we interact with others, we want them to feel listened to, cared for and respected. Throughout her career, Liz has always done exactly that. The team member that nominated Liz said, "To try and put over 10 years' worth of caring and courteousness down would take forever!" She went on to say, "I realize how fortunate I have been to work with Liz, being there for me in good times and (literally) pulling me through the bad. Everyone should be so lucky to have a manager that cares that much!" Liz is a joy to work with, and we are so happy to have her on the team.
Have moxie
Victoria McGowan, Relocation Consultant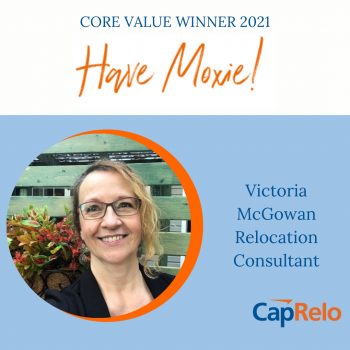 We employ know-how and a fearless resolve to lead, raise the bar and embrace challenges. We approach work with enthusiasm and determination. No one does this better than Victoria. She is always ready to jump in and help with any task. The team member that nominated her said, "She has taken on additional responsibilities to help relieve some of the workload on her team. Her positive attitude and determination are forces to be reckoned with, and she has moxie for days." We are honored to have Victoria on the CapRelo team.
The bottom line
Aida Harounian, Director, Client Services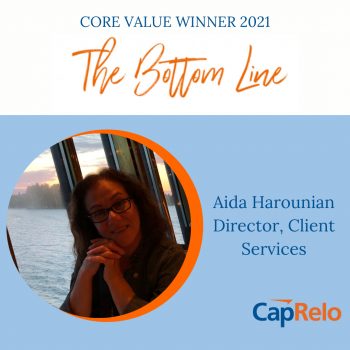 Being profitable ensures the future of our company, allows us to invest in our clients and our employees and fuels our success. With over 20 years of mobility experience, Aida is adept at finding opportunities to maximize revenue. When Aida joined the team in 2019, "she spent several months working directly with our supply chain and local vendors to increase our profits in multiple areas," said the team member that nominated Aida. Aida has been essential to the financial success of our Canada team, but even more importantly, she has ensured the highest quality of service for our clients, leading to all-time highs in both service results and client satisfaction. We are thrilled to have Aida on our team.
Together we succeed
Brian Trusiewicz, Senior Proposal Writer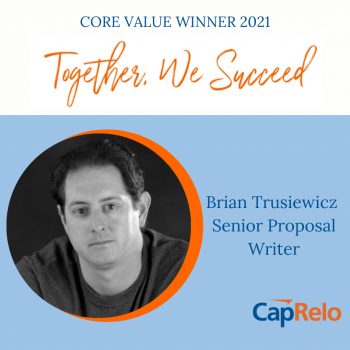 We work collaboratively to support the entire company and to bring value to our customers. Our employees are always ready to jump in and help to get the job done right. Brian is no exception. He is always up for a challenge and the team member that nominated him said, "In business development, we receive crazy requests from RFIs and RFPs with tight timeframes. Not only does Brian know his role, but he also understands how as a team, together we succeed." Any team would be lucky to have Brian, and we are beyond grateful to have him on ours.
Care and respect
Zach Linton, Director, Proposal Management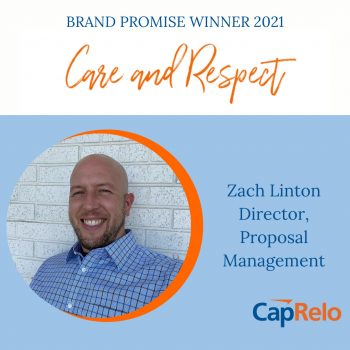 The Care and Respect Award honors a team member that truly embodies every single one of CapRelo's core values, as well as the JK Enterprise brand promise of care and respect. "Zach exemplifies living all of the core values we embody on a daily basis, and always with a positive, can-do attitude, with the selfless goal of ensuring we succeed as a company." Zach approaches everything with the utmost professionalism and a thoughtful and caring approach. He always asks for feedback and is constantly looking for opportunities for improvement.
At CapRelo, we strive to attract the best and brightest, and we are happy to recognize them for all of their hard work. Their dedication to our values is what allows us to give our clients superior service. "I am so proud of our team, how we continue to drive culture through our values-based structure, how we persevere through pandemic ups and downs, and how we continue to value and care for each other. My hat is off to all of our team members and those highlighted here for their stellar nominations," Barry Morris, CEO CapRelo.