CapRelo Insider – October 14, 2021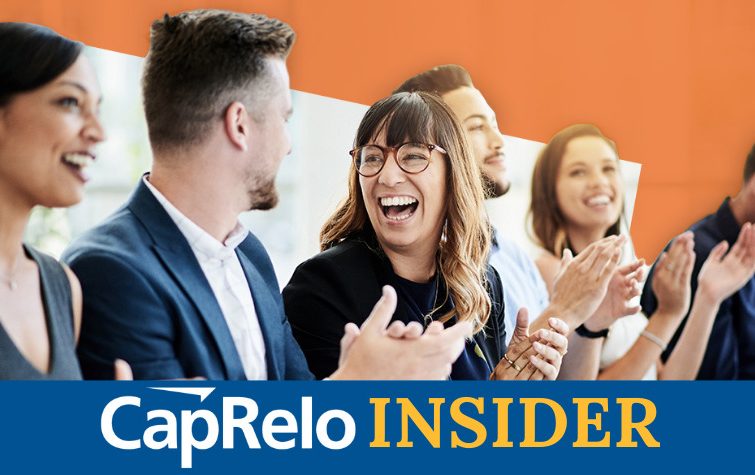 The CapRelo Insider provides a glimpse of news, trends, and happenings affecting the global mobility industry. Our experienced client services team provides updates and analysis directly to our clients, with policy and program recommendations that are best for their companies and employees. To learn more about how we can help you, contact us today.
Something Just for You
We know how hard it can be to squeeze in time for professional development, so we are adding a feature to our newsletter that you can consider quickly and easily – just for you. You deserve it.
How HR Departments of One Can Claim a "Seat at the Table"
HR pros who operate solo face a conundrum—they are often assigned long lists of administrative tasks, but many want more strategic work. This problem pushes single-person HR departments to prioritize agility and efficiency.
Click here to learn three quick ways to claim your seat at the table.
Industry Updates
Hybrid Work Schedule Becomes the Norm for Expats
Based on a survey of attitudes towards hybrid and remote work across 175 countries, 78% of expats responded that they are now able to work remotely. The 10 countries expats rated as most important for hybrid and remote work were the US, UAE, Finland, Estonia, the Netherlands, Bahrain, Australia, Canada, New Zealand and Sweden.
How does this affect me/my program? To remain competitive, businesses sending employees abroad, especially to the countries listed, will need to consider offering flexible work options if they don't already.
Continued Shipping Logistical Challenges
According to a FIDI update, the global shipping industry continues to experience an intense rise in international demand for services, reduction in container availability and driver shortages. These issues are causing "irregular, delayed or canceled services and steep price increases." While those in the international moving industry are working to alleviate the pressure, the impact on delivery times and spend remains critical.
How does this affect me/my program? Availability is at a record low, leading to longer booking times and prices increases. Logistics are generally unpredictable, making it challenging to offer accurate quotes on pricing and delivery times. Businesses should plan ahead, book early, minimize last-minute changes where possible and prepare internal budget teams for potential pricing updates as the move date approaches.
US to Reopen Travel to Fully Vaccinated Foreign Nationals in November
The White House announced that it will begin lifting travel restrictions for fully vaccinated foreign nationals from currently restricted countries. Fully vaccinated travelers will still be required to produce a negative COVID-19 test. The CDC has announced that "six vaccines that are FDA authorized/approved or listed for emergency use by WHO will meet the criteria for travel to the US." Travelers should check the US CDC to ensure the vaccines they received meet US vaccination requirements.
How does this affect me/my program? This is a welcome update for those who have been unable to enter the US for the past 18 months. Travelers will still need to meet updated travel requirements, such as negative COVID-19 tests and proof of vaccination. Businesses should determine if and how employee vaccination status will be collected and retained internally. They will also need to determine the process by which that information will be shared with travel and/or mobility service partners as it relates to individual assignees or business travelers. Furthermore, businesses should determine whether COVID-19 testing expenses will be reimbursed by the company and any limitations that will apply. Additional policy language and/or revisions may be required to clarify the company's position on vaccinations and testing required for relocation and business travel.
US Housing Market Update
Newly constructed home sales for August outperformed expectations but remain below the pace of August 2020. After seasonal adjustments, the annual unit sales rate increased 1.5% from 729,000 in July to 740,000 in August.
Existing home sales fell by 2% in August while home prices increased across the United States.
Temporary housing shortages continue because of manufacturing delays, labor shortages and increased travel and demand.
How does this affect me/my program? As the housing market slowly becomes less competitive, relocating employees may have an easier time buying a new home, eliminating one of the key concerns driving employee resistance to relocate and reducing the number of delayed start dates. For certain markets, this will reduce the number of exceptions related to extensions of temporary living and storage. Temporary housing shortages may make finding suitable transferee accommodations challenging and expensive, and companies should be as prepared as possible.
England Simplifies COVID-19 Restrictions on International Travel
England has transitioned from a 3-tier travel restriction system to a single red list of high-risk countries and territories. Fully vaccinated travelers from countries and territories not included on the red list will no longer be required to present a pre-departure negative COVID-19 test to enter England. They will still be required to book and pay for a test by the second day of their arrival, but rapid tests will be allowed.
How does this affect me/my program? This transition facilitates a simplified travel process for those coming from countries and territories that are not on the red list. Travel costs may also be lower for these travelers because they will only have to pay for a hotel to quarantine in if their post-arrival COVID-19 test is positive. Ease of travel from other countries and regions may re-energize assignment and transfer pipelines. Companies should communicate with their mobility provider to update estimates, refresh assignment letters and/or update their internal teams on in-house processes that have remained in limited use during the past 18 months.
Travelers Must Be Fully Vaccinated to Depart from Canadian Airports
Starting October 30, 2021, travelers will be required to be fully vaccinated, barring medical exemptions, to depart from Canadian airports or travel on VIA Rail and Rocky Mountaineer trains. Cruise ship passengers will need to be fully vaccinated when cruise season starts in 2022.
How does this affect me/my program? Vaccination requirements will impact domestic, trans-border and international relocations if transferees travel by air or train. Companies may find that transferees prefer to drive rather than fly, asking for increased mileage reimbursements, rental cars and longer home-finding trips and impacting total relocation costs. Check with your Province authorities for vaccination locations and vaccine guidelines.
German Constitutional Court: 6% Interest on Back Taxes, Refunds Unconstitutional
The German Constitutional Court has ruled that the current statutory interest rate of 6% on back taxes and tax refunds is unconstitutional. The underlying decision affects the calculation of interest on income tax as well as corporate tax, VAT, and trade tax. For interest periods as of 2019, the interest rate must be adjusted.
How does this affect me/my program? Companies may incur additional interest or receive a benefit if there is a tax refund (especially those which have net salary agreements in place). It may be beneficial to consider the potential impact this may have for employers and employees as the interest accrual will start 15 months after the end of the tax assessment year. For global mobility professionals, it is critical to have a program with consistent compensation collection and accurate year-end reporting for timely reporting of compensation data to the tax provider. This enables faster tax return processing to ensure filings are completed by the deadline and any payments are received when expected, reducing late tax filing and back taxes.
SIGN UP for the email notification when the next CapRelo Insider is published!