CapRelo Insider: 23 June 2022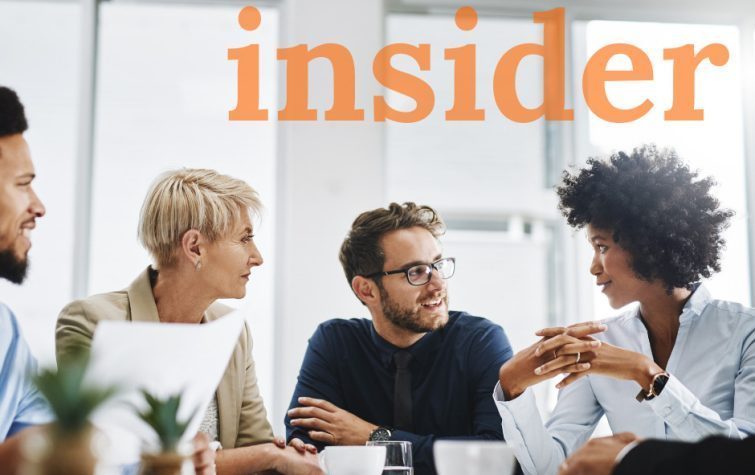 Something Just For You
As a global mobility manager, your duty of care to your business and to your customer requires you to have a range of hard and soft skills. Whether your strengths are technical or interpersonal, it is important that you are seeking opportunities to build upon your strengths while acquiring and developing new skills. But what specific skills should all global mobility managers have, and how can they build upon them? We, at CapRelo, have provided you with a checklist that informs you of the necessary skills needed for success as a global mobility manager.
Problem-Solving: LinkedIn Learning, Masterclass, Google Digital
Effective Communication: Soft Skills Group, Masterclass, Coursera
Intercultural Skills: Learnship, HubICL, Indeed, Coursera
Negotiation Techniques: Udemy, LinkedIn Learning
Technological Proficiency: Google Digital, Microsoft Learn, LinkedIn Learning, Masterclass
Latest Insights
Housing Market Updates Sets New Expectations for 2022
On June 13th, Realtor.com updated its 2022 housing forecast due to some recent and sudden changes in the housing market. The original report predicted a 3.6% mortgage rate for 30-year fixed rate loans as median housing prices continued to rise and inventory remained scarce. However, mortgage interest rates have surged in the last month, altering the expectations for 2022.
Mortgage rates are now closer to 6% and are anticipated to raise throughout the year.
Impact

Realtor.com Chief Economist, Danielle Hale, states, "Our home price projection is going up as we're seeing a lot of sticking power in prices and price growth. We do still expect home prices to cool, but we're starting at a higher price point".

The rising mortgage rates and prices will impact home sales as homebuyers are still battling with the costs. It is predicted that homebuying activity will drop 6.7% compared to 2021. Despite the sales plunge, inventory is still expected to increase by 15% this year and housing starts (home build) to reach a 16-year high.

The new predictions will require homebuyers to shift their expectations. Though inventory is expected to increase, housing prices and rising mortgage rates still remain to be buying and bidding obstacles.
CapRelo is diligently analyzing the market and the latest housing trends. For more information and support, you can contact our services team here.
UK and Indiana Signals Expansion of Trade Deal
Recently, the UK and the U.S. state of Indiana achieved a major milestone in their Memorandum of Understanding trade deal. The UK expects to seal five more trade accords with U.S. states in the next year. The goal, as stated by UK government officials, is that 20 states will participate in the trade deal in an effort to assess mutual recognition of professional qualifications and improve access to procurement contracts.
The deal is not expected to lower tariffs on goods being transported between the two regions.
Impact

The head of Trade Policy at the British Chambers of Commerce stated "We want to see cuts to the costs and red tape for exporters, help for supply chain co-operation, new opportunities for green trade, secure mutual recognition of professional qualifications, wider services access and new business travel options".

As the UK expands this deal to other states, UK businesses will continue maximizing opportunities in areas such as renewable energy, advanced manufacturing and pharmaceuticals.
Canada Moves to Protect Homeowners in New Budget Proposal
The federal government of Canada has introduced a new bill aiming to make housing more affordable. The bill was proposed as a solution to the dramatic increases in housing costs and will work to combat its impact on the economy. In addition, the bill will provide incentives and specific laws to make housing in Canada more affordable. Some of the proposed measures include:
Providing funds to extend the Rapid Housing Initiative and build 6,000 affordable housing units across Canada
A Tax First Home Savings Account which will allow potential homebuyers to save up to $40,000 USD
Launching a new Co-Operative Housing Development Program which will expand co-op housing in Canada
Protecting home buyers by working with provinces and territories to institute a Home Buyers' Bill of Rights and bring forward a national plan to end blind bidding
The average cost of a house in Canada has risen 7% over the last year, with transactions decreasing at a rapid 26%. The biggest increases have been seen in Ontario, Nova Scotia, and New Brunswick. As home prices have continued to increase, the appetite for homebuying is consistently lowering.
Impact

The federal proposal will be spread across Canada's ten provinces. Several of those provinces have already enacted incentives and laws to reduce the cost of housing and stabilize the market. Nova Scotia, Ontario, and British Columbia are among the provinces which have already enacted tax regulations for non-Canadian homebuyers.

Specifically, relocation transactions will be impacted as vacant property taxes may influence when properties are held in inventory. The proposed restrictions also raise questions on whether or not it will be necessary for relocation professionals to lobby the government on the reasons why U.S. based relocation management companies buy properties in Canada.
Household Goods Shipping Delays Push for Advanced Notices
In the last year, we have seen a massive increase in shipping delays for household goods. For U.S. domestic, certain challenges are being seen in truck and driver shortages while on the global scale, larger economic and shipping challenges are causing delays. Here is what we are currently seeing:
U.S. Domestic: The moving industry is experiencing mass shortages in labor and truck drivers. According to the Director of the American Truckers' Association (ATA), Katie McMichael, "The first big thing [moving] is struggling with this year is available labor. What we're seeing is that there is a reduction 20%-30% of the labor that the industry normally uses".
In addition, the high level of activity for the current U.S. housing market is also proving its challenges. The property current housing market trends are pushing employees who are relocating to sell quicker. This means that the influx of sells increases moving activity, further congesting the shipping and delivery sphere.
Global: The war in Ukraine has disrupted air cargo from arriving to its destinations on time. Meanwhile, the COVID lockdowns in Shanghai massively impacted the availability of exports. These two factors, along with vessel shortages, have driven freight costs up, in both air and sea, and international shipping delays. Household goods often see international deliveries occur within six weeks. However, the current economic factors have raised these international delivery times to around 8-10 weeks. Due to the often larger sizes of shipment, household goods require larger containers and more manpower to execute an effective and time-efficient move. Source
Impact
U.S. Domestic: Summer is peak season for moves as it is a popular time for families to relocate just before school starts and military relocations. According to the ATA, as we enter peak season, we can expect delays in unscheduled summer moves until August or September.

Global: Right now, we are seeing some improvements as capacity is increasing on major routes and more ships and containers being built. However, the impact of these improvements have not yet made any substantial impact on delays. According to Freightos.com, we should also not expect to see any decreases in freight rates or shipping costs any time soon.

In order to adjust to the shipping delays, in both the U.S. and global sphere, it is important that your move management team is updated on all your specific needs in terms of delivery expectations. Once aware of your move dates, it is essential you let your move management team know as soon as possible so they can work to best serve you.
Our move management team does their very best to accommodate and meet your requested move dates. To ensure the best quality and service, book all relocations as early as possible.
Japan Looks to Raise Entry Cap
The pandemic pushed the Japanese government to install a daily entry allowance cap for people coming into the country. As of June 1, considerations are being made to increase this cap to 30,000 people daily starting on July 1.
The new considerations come from the Japanese government's recent raise to 20,000 people per day due to their new procedure in testing based on region of origin.
There is also a proposal being debated to eliminate the capacity limit altogether.
Impact

The new proposal will open up opportunities for global mobility leaders and programs. As the recent restrictions impacted the flow of global assignments for Japan, businesses can now accept a greater number of incoming assignees to participate in business needs in-country.

These new allowances will push global mobility leaders to consider how the free flow of immigration and tourism will impact the on-going housing and shipping crises happening worldwide.
CapRelo is here to help you adjust to these ongoing changes. Contact one of our relocation consultants today for more information.
Mobility Radar
Each month, we will feature our Mobility Radar in our newsletter as an added bonus of trends you should keep an eye on. As with any radar system, you may not know the full details, but you know it should be watched. Mobility Radar will do just that.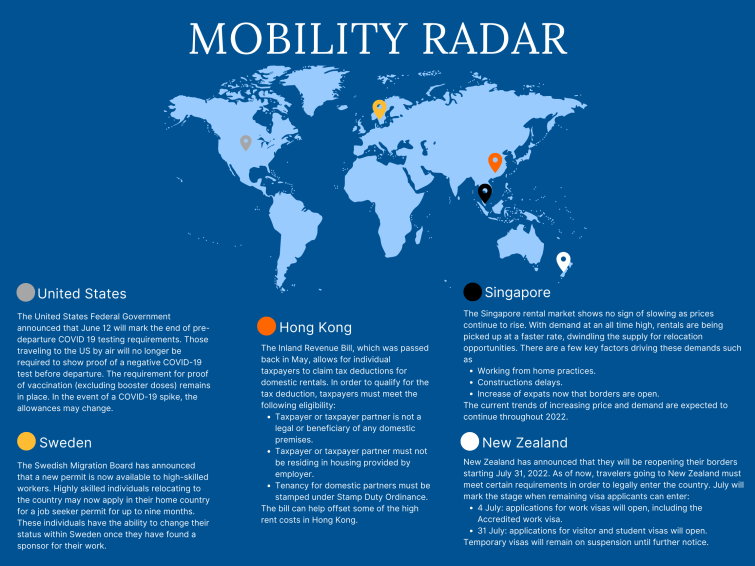 SIGN UP for an email notification when the next CapRelo Insider is published!