Corporate Social Responsibility in the Relocation Industry: Why It Matters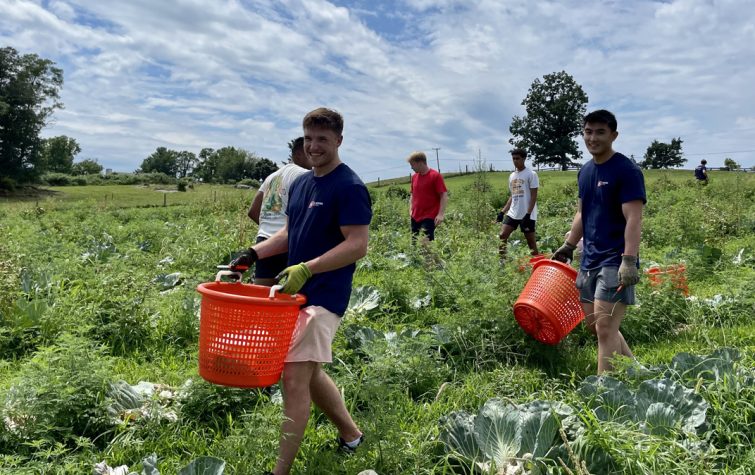 Now more than ever, enterprises must be aware of their impact on society and the environment, not just the bottom line. Corporations have the power and responsibility to promote social and environmental policies that accelerate positive change in the world and set an example that facilitates a better tomorrow.
At CapRelo, we put corporate social responsibility (CSR) at the heart of our identity. Our CSR efforts focus on three key areas:
Fostering an environment where our employees thrive
Reducing our environmental impact
Investing in our communities with a special focus on fighting food insecurity through sustainable agricultural practices
At CapRelo, we embrace our CSR initiatives as an ongoing process, continually seeking ways to expand and improve our programs. We infuse CSR into our business model and company culture because we believe it's the right thing to do.
Putting Our People First
Workplace ethics are fundamental to everything we undertake because doing right by our team is central to our core values. We believe in the power of people and know that our incredible employees are the heart and soul of CapRelo. Our people are why our clients trust us to provide seamless customized relocation services that address their unique needs in over 160 countries. We see ourselves as one unified community and provide our team members the ongoing training, development opportunities, and work/life balance they need to thrive professionally and personally.
Our employee-led diversity council meets regularly to evaluate our business practices and understand staff sentiments. The goal is to continually identify new actionable steps and best practices that increase inclusion, diversity, and equity company-wide.
Transparency and honesty within our team are essential to us. Our company-wide open-door policy ensures that everyone at CapRelo feels comfortable sharing ideas and concerns or providing feedback.
Minimizing Our Footprint
It's no secret that the relocation industry has a considerable impact on the environment, but that doesn't mean we shouldn't do everything we can to reduce our ecological footprint. Our employee-led Sustainability Task Force (established in 2000) systematically identifies new ways to improve existing sustainability initiatives while bringing future endeavors into focus across all departments. Our goal is to lead by example, demonstrating the gold standard of environmental stewardship in the relocation industry.
Reducing paper and plastic use at our offices is central to our ecological initiatives, and we've switched to 100% recycled paper business-wide. In addition, CapRelo's ever-evolving carbon management plan focuses on reducing water and energy use while proactively taking advantage of renewable energy sources.
But our efforts extend well beyond our offices. For example, we hold our property and supply chain partners to the highest environmental standards. Our property partners work steadily towards 100% renewable energy and continually focus on water and energy conservation improvements. We select our supply chain partners with sustainability and environmental impact as key criteria. Our procurement team carefully ensures that our sustainability goals remain front and center as our relationships with our suppliers evolve.
Empowering Our Communities Through Sustainable Agriculture
In collaboration with our enterprise partners, we launched JK Community Farm in 2018 to help our neighbors who struggle with food insecurity and advance sustainable farming practice awareness. It's been an incredible journey, and we continue to expand food production as we grow into the 150-acre property. We're proud to report that the project has already donated hundreds of thousands of pounds of fresh, nutritious food to those in need, and we're just getting started!
Sustainable agriculture is farming that uses environmentally friendly practices to produce healthy food with minimal environmental impact. Techniques like crop rotation and companion planting to help maintain soil fertility, composting, and using natural fertilizers and methods of pest control create safer conditions for farm workers and animals while improving food production and quality.
Sustainable agriculture is vital to food security and the planet because it conserves resources, promotes biodiversity, and reduces pollution and greenhouse gasses. Therefore, it's a powerful tool in the fight against climate change. In addition, sustainable agriculture is crucial for feeding the world's growing population. According to the United Nations, the world will need to produce 70% more food by 2050 to provide for its inhabitants. Sustainable agriculture will be essential for meeting this goal because it restores and maintains the fertility of farmland to ensure it continues to support crops and livestock indefinitely.
We're so passionate about this project that we took everything we learned (so far) and created a Community Farm mentoring program and playbook to empower other advocates to execute similar efforts worldwide. Learn more about our community farm.
The Best Possible Tomorrow
The relocation industry has an opportunity to lead by example through CSR initiatives and facilitate a better world for everyone, both socially and ecologically. However, it's important to remember that we all have a part to play in making the best possible future a reality. Progress on this front requires a sustained effort from the corporate world, government, and individuals. We hope you'll join us in taking action to make a difference.
Read more about CapRelo's corporate responsibility initiatives.