Solving Global Food Insecurity Starts at Home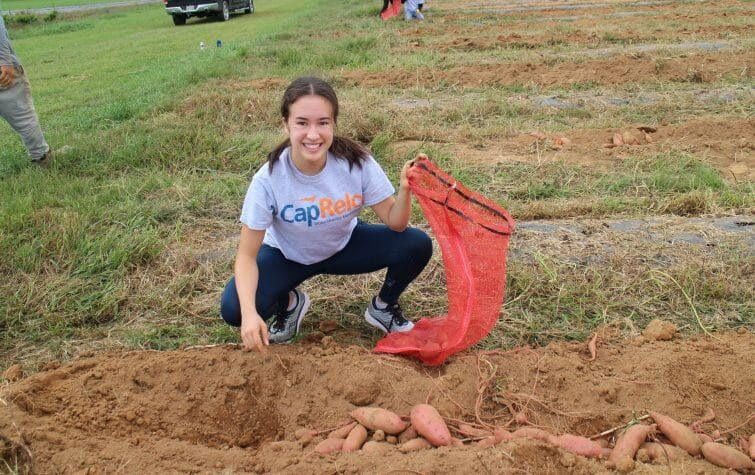 When a company does business across the globe, as CapRelo does, its eyes are opened to many socioeconomic challenges. It is easy to be overwhelmed by them, their scope so pervasive, their root causes seemingly too complex for one person or organization to impact.
Hunger Is One of Those
Did you know that nearly 270 MILLION people struggle with food insecurity? And let's not be too quick to think of hunger as an issue for underdeveloped countries. Certainly, in a highly developed country like the United States, no one goes hungry, right? Hardly.
Take a look at New York City, for example. Sixteen percent of New York City residents – that's 1.4 million people – are food insecure. One in every five is a child.
The economic fallout from the pandemic has only exacerbated the problem, with experts predicting an 82% jump in the number of people facing food insecurity as a result.
One Meal at a Time
So how can one person or company make a difference? For CapRelo, we believe that by supporting local and regional initiatives we are playing an important part in addressing something much bigger. That is why we decided years ago to find a way to help those in need, one meal at a time.
In 2018, CapRelo and our enterprise partners launched the JK Community Farm, a 150-acre nonprofit that grows organic fruit, vegetables and protein without chemical pesticides or synthetic fertilizers, and features examples of sustainable agriculture, like a compost system, rainwater harvesting and drip irrigation. Last year, with the help of corporate and community volunteers, the Community Farm donated more than 147,000 pounds of fresh food to food pantries in Washington, Virginia and Maryland with plans to expand into Canada.
Twice a year, we at CapRelo take a day away from the work of global mobility to personally – and very physically! – support this great nonprofit. Last year, the CapRelo team got a glimpse at what a sweet potato harvest entails. Excited about the opportunity and wanting to set a positive example, I arrived early at the farm that day last fall. Lesson learned: if you don't want to work hard, you don't want to arrive when the food pantry trucks arrive. That morning, my colleague Mark Woelfel and I lifted 6,000 pounds of sweet potatoes, in 65-pound sacks, into those trucks headed to local food pantries that day. And that was before harvesting an additional 3,500 pounds. This Earth Day, April 22, our team will again trade their comfortable offices for a day in the fields at the Community Farm.
Committing People and Dollars
These days of service remind us of the power of working together toward a higher need. But CapRelo's commitment to addressing food insecurity doesn't stop with two days on the farm. We devote a percentage of every dollar we get from our customers to the Community Farm as well. And last year, instead of giving holiday gifts to customers, we chose to donate in their names to the local food pantries in our clients' headquarters locations. The response was overwhelming, sending a clear message:
The global mobility community understands that solving global social issues starts by solving them at home. One meal and one person at a time.
Learn more about how you can partner with the Community Farm – and CapRelo – in fighting food insecurity. Contact us.