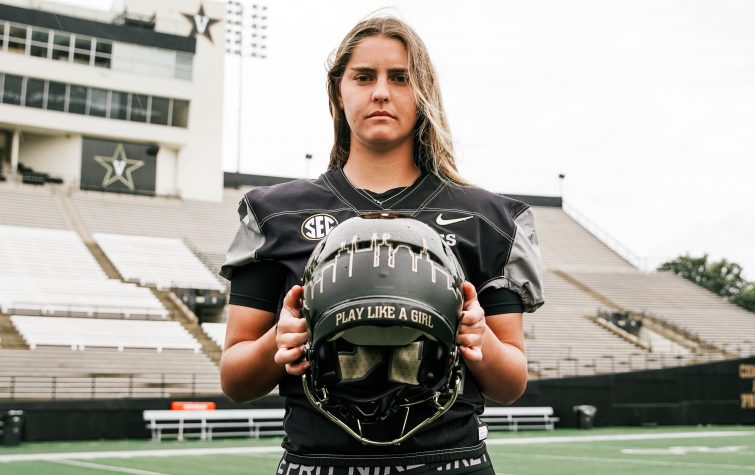 I admit to being a diehard University of Georgia Bulldog alumnus. So much so that anytime an SEC arch rival makes positive sports headlines, I grudgingly take note. So it was on a cool Saturday last December when a young woman named Sarah Fuller made SEC history.
A month earlier, Fuller had joined Vanderbilt University's men's football team among COVID-19 issues. Her kickoff to open the second half of Vanderbilt's game on November 28 against Missouri made her the first woman to play in a Power 5 Conference game. Less than a month later, she kicked a pair of extra points through the uprights for Vanderbilt, becoming the first woman to score in a Power 5 conference football game.
No woman before Fuller had appeared in an SEC game or for any Power 5 team.
I remember that December day not because of who won or lost the game. What struck me was this. Sure, Fuller had earned her stripes as a starting goalkeeper on Vandy's SEC championship women's soccer team. But on December 12, 2020, she showed her moxie.
Showing Moxie during Adversity
When I came on board CapRelo several years ago, I quickly learned that moxie is one of seven values our employees live by. I'll be honest; I had to look up the word. I found lots of definitions: energy, pep, courage, fighting spirit, initiative, know-how, perseverance. But the one I liked the best came from Oxford:
Moxie is having force of character, determination, nerve.
This past year of pandemic has tested the moxie in all of us in mobility. Managing relocations in a world of travel restrictions, quarantines, global shipping delays and supply chain disruptions takes something more than just doing business as usual. It takes moxie.
Moving with Moxie
It makes me think of the many customers and their employees who count on our moxie to smooth the relocation process, even (especially) in the most challenging circumstances.
Take for example the employee and his wife who were scheduled to move from Mexico to New York in the height of COVID-19. A day after securing their visas from the U.S. consulate in Mexico, they became concerned about the prospect of the border closing. Rather than waiting the two weeks for their planned move date, they packed a bag, booked a flight and arrived in Manhattan without notice.
We received a call late on a Friday afternoon from our client. She said, "One of our new hires who was due to start in a few weeks just called me. They are in Manhattan, in a hotel being used for COVID patients to self-isolate. We don't know much more, but we have to get them out of the hotel. Can you help?"
COVID has tested quick thinking and even quicker reaction, and this was no exception. With Manhattan due to go into full lockdown that very weekend, we needed to act fast. We contacted our supply partners, and thanks to quick action and even stronger partner relationships, the couple was in a new apartment by 5 p.m. that evening, and even able to get groceries before the city locked down.
The story doesn't stop there, though. The next week, we worked with our destination service providers and movers in Mexico to supervise a pack and load of the couple's home, coordinating with them remotely every step of the way. With a little moxie, some nimble action and a first-class team of partners, we turned a challenging situation into a happy ending.
It's in times like these that mobility professionals need a global relocation partner with moxie. One with grit, determination and skill to kick the ball through the goalposts in even the most unexpected situations. They need a Sarah Fuller.