CapRelo Insider: 21 July 2022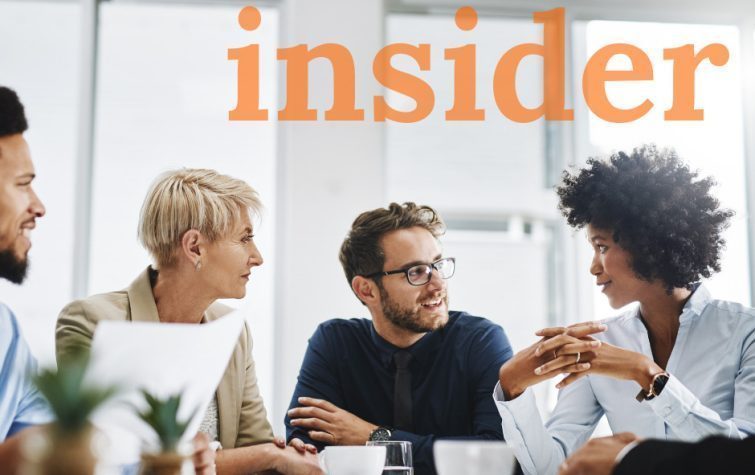 Something Just For You
There is an on-going trend among the younger workforce, and it's different from the newest TikTok dance or slang term. Younger hires are increasingly defining themselves as a distinct identity within workplace cultures–a trend known as "personality hires".
A personality hire can be defined as "how a candidate's character can contribute to the success of your company"; it can also be recognized as hiring for culture. It is important to note that these hires do in fact hold the necessary skills and knowledge to produce results and achieve business goals. However, they bring a critical aspect to the business–improving the workplace culture. Often through the lens of humor, personality hires prioritize workplace relationships and cultivating a positive work environment. As a result, productivity and employee satisfaction can increase as positive work relationships can boost motivation and offer more room for collaboration.
Some additional benefits of hiring for personality include:
A more comprehensive understanding of employee communication methods
Implementing a suitable work environment that cultivates progression and positivity
Ensuring comfortability in your workers to share opinions and offer perspectives for tasks
The benefits of personality hires are endless. However, talent acquisition leaders must keep in mind their value in performing tasks and opportunities for growth. Considering their effect in your workplace culture is a major step toward enhancing recruitment and retainment opportunities. For more information about personality hires, click here.
Latest Insights
Croatia Joins the Euro Zone
On July 12, the European Council formally voted to welcome Croatia into the euro zone. The 28th member of the EU since 2013, Croatia will adopt the euro as their official currency (replacing the kuna) as of January 1, 2023.
The vote came after careful consideration of numerous economic criteria, including stability of exchange rates, analysis of public finances, and long-term interest rates measured against EU benchmarks. The desire for euro zone affiliation was driven by Croatian politicians looking to strengthen and stabilize the country within EU borders. The European Council's vote recognizes that the country has met all requirements.
Impact: Croatia's entry into the euro zone will add to the EU economy. Tourism, Croatia's largest source of revenue, is expected to generate profits to the European Central Bank and increase overall economic well-being. European Commission Vice President Valdis Dombrovskis said, "This is particularly important at such a challenging time when Russia's aggression against Ukraine continues to send shock waves around the world."
However, inflation still poses a major challenge in the EU economy as a whole. Factors such as Europe's spikes in energy cost and the Ukraine-Russia conflict have posed obstacles in stabilizing inflation rates and prices.
For the global mobility manager, this is a massive consideration when thinking of global assignments. Croatia opens the door for market opportunity and global growth. For more information on how CapRelo can serve you, take a look at our services page here.
Source: 'Amazing journey': EU accepts Croatia as 20th euro zone member | Reuters
---
Home Sale and Home Build Cancellations Trend Upwards
A recent report by Redfin revealed that this past month, home sale cancellations are happening at the highest rate since the start of the COVID-19 pandemic. The report revealed that cancellations on sales agreements for existing homes occurred as much as 15%, which shows a 4% increase from the previous year.
The increase in cancellations comes from an already hot housing market. This year, 30-year fixed mortgages started at around 3% before settling to around 5.75% in recent weeks. Higher mortgage rates are pushing borrowers to no longer qualify for the loans needed while surging inflation continuously drives price increases. Home build cancellations have also been affected by current housing market trends.
Impact: Stuart Miller, Lennar Chairman, stated, "It seems that these trends will harden as the Fed continues to tighten until inflation subsides. While we can choose to fight against the trend, the reality is that the market has been changing and we are getting ahead of it by making all necessary adjustments". Home build cancellations are now reaching up to 11.8% while the cancellations for home sale remain stagnant at 15%.
Global mobility professionals must stay on top of this trend. As home sale and home build cancellations increase, this can impact housing opportunities for relocating employees. Source
---
Backlogs Prove Further Obstacles for Immigration
The month of July revealed an increase in immigration backlogs as countries are moving to lessen their entry requirements. With the reduction in global COVID-19 cases, countries such as the United States, United Kingdom, and Canada have made larger steps to increase immigration flow in the last month. However, the lessened restrictions has produced an influx in visa applications, causing immigration offices to experience delays in processing times. Here are some of the recent updates:
United States: Backlog has reached to approximately 5.2 million cases while 8.5 million cases are still pending.
Canada: Over 250,000 applications have increased in the last month bringing the immigration backlog to 2.4 million. Processing times are can reach upwards of 150 days depending on the type of application.
United Kingdom: Visa processing times are seeing lengths of anywhere between 5-6 weeks. UK Visas and Immigration (UKVI) are prioritizing applications made under the Ukraine Visa Scheme, accounting for the prolonged processing times for work, student, and visit visas.
Impact: The backlog of visa applications could result in prolonged waiting times for relocation assignments. As immigration offices are tackling the processing times, mobility managers should be prepared for potential delays in sending employees abroad.
---
EU Pushes VISA-Free Travel Agreement
Recently, the European Council and European Commission approved a proposal which would allow citizens of Kuwait and Qatar to acquire short-term visa-free travel. Citizens of Kuwait and Qatar will be able to travel throughout the European Union for up to 90 days and EU nationals will be able to travel to Kuwait and Qatar for the same amount of time.
The proposal is a result of the European Union's attempts to better their relationship with Gulf countries. The proposal is now being put through to European Parliament, where it awaits a final decision.
Impact: Mobility professionals will need to keep an eye on the final decision regarding the VISA-free travel agreement. If approved, the agreement will allow individuals from Kuwait and Qatar to access EU nations–and vice-versa–without the time-consuming and costly process of visa applications. This could provide opportunities for potential short-term assignments and relocations.
Source: Envoy Global
---
Hong Kong Named Most Costly City
Reports have shown that Hong Kong has become the most expensive city for overseas workers, just ahead of Tokyo, Geneva, and New York. The rising cost of inflation has increased cost of living expenses globally, however, on-going political tensions and COVID restrictions in China have increased necessary expenses for employees abroad.
Impact: When considering relocations, mobility professionals should be aware of the expenses needed for a smooth relocation to cities such as Hong Kong. Relocations to these high-cost areas require a deeper dive into how the relocation can meet the needs of both the business and employee.
---
Mobility Radar
Each month, we will feature our Mobility Radar in our newsletter as an added bonus of trends you should keep an eye on. As with any radar system, you may not know the full details, but you know it should be watched. Mobility Radar will do just that.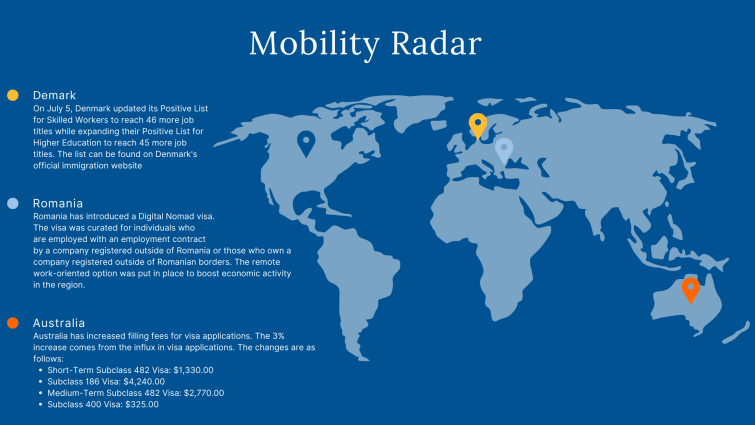 SIGN UP for an email notification when the next CapRelo Insider is published!