Partner Perspectives: Preparing for a Move? How to Choose the Right Household Goods Mover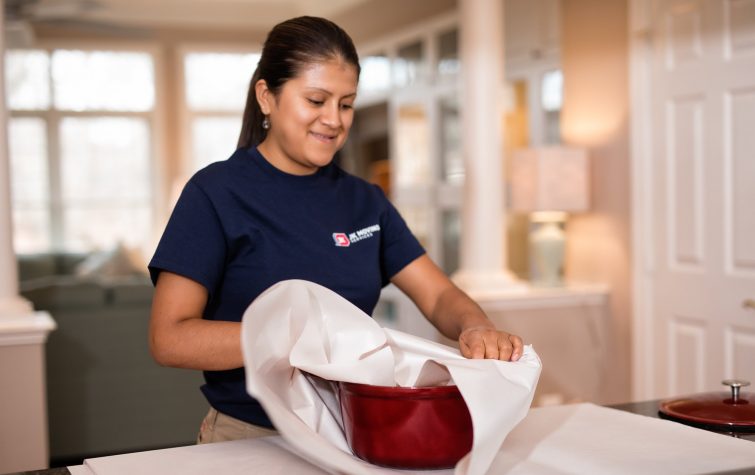 If you are an employee considering a relocation, there's a good likelihood that your employer is offering a lump sum relocation package. Why? Companies want to give employees flexibility over how their move is handled, and by whom. They also help the employer manage its overall relocation budget. In fact, nearly half of companies offer lump sums to pay for specific components of a relocation policy, according to a CapRelo survey.
While having that freedom to control your own move is empowering, it also puts the onus on the relocating employee to choose your household goods move options wisely. There are three important factors to consider in preparing for a move: your service needs, your budget and your risk tolerance.
Let's explore each.
What level of service do you need and expect?
In our 40 years of moving 500,000 families around the globe, JK Moving has learned at least one thing with certainty: No two families and no two needs are alike. Many of our customers are like the ones we recently moved, along with their 42 years of precious family antiques with three drop-off points. They need and expect white glove service for their museum quality furniture or prized art collection.
At the same time, we move transferees with little more than milk crates, a few boxes and a mattress. For them, a do-it-yourself approach is often all they need, expect or want to pay for.
Customer engagement can range from those who don't want to touch or lift a thing, to full do-it-yourselfers, and all points in between. So where do your fall in the spectrum?
You also should consider your move's logistics. Will your mover be able to park right in front of your single-family home to load and unload? Or will it require dock parking and carting your furniture and personal items through elevators, stairs, or long sidewalks? Are you willing to pay them to not have to hassle with that, or is it more important to reduce costs and burn some sweat yourself?
Before choosing a mover, give serious thought to how much support you want from the mover versus how much you prefer to do yourself. Then be sure the mover you choose is skilled, experienced and comes highly recommended in delivering that level of service. The level of service obviously factors into price, so be sure your expectations align with your mover's expertise, and with your budget.
How much are you willing to spend?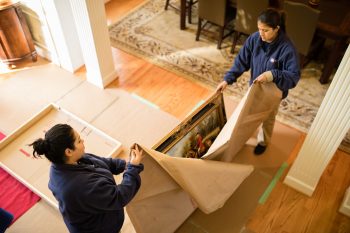 Which leads me to the second key factor in choosing a household good mover: price. No matter where you fell in the service spectrum above, let's be real. The cost of a move is always a factor. But for some transferees, it is the most important factor. If that's you, you may want to consider some DIY options, like doing your own packing, to keep costs down. Have you ever packed boxes of "stuff" that never got unpacked in the new home, and wondered why you went through the effort and cost to move it? You can reduce move costs with a pre-move purge to discard, donate or sell items you no longer need.
Cash can sometimes be tight until a home sale closes and funds, in which case a mover who offers finance options can have a distinct advantage over others. Carefully read the fine print so that you are comparing apples to apples when considering the right mover. Be sure to ask the movers you are considering:
Do you offer financing, and if so, what are the terms?
What level of service does your price estimate include – full packing and unpacking, custom crating?
How do you charge – by the hour/day, box/item?
If I do all my own packing, how much can I save?
Every transferee naturally wants to pay as little as possible. That doesn't mean they aren't willing to spend the money. The key is to understand the differences between what you want to spend and what services are absolute must-haves.
We move clients into everything from high-end multimillion dollar homes to starter homes and apartments. For those shopping for a top-of-the-line Mercedes move experience, our quote will include that level of service: guaranteed dates, full replacement coverage in the event of a claim, full packing and unpacking, custom crating. If you need a solid Chevy move experience, make sure the fine print and pricing align with your expectations.
What is your risk tolerance level?
And that leads to the third important factor in choosing a mover. Hand in hand with the service you expect at the price you are willing to pay comes risk tolerance. Anyone relocating needs to take a good look at how much risk they are willing to assume.
How important are background checks for move team members that will be in your home and interacting with your family? At JK Moving, we take background checks seriously. Everyone from start to finish is background checked, which means they have also been through our training and certification. In our 16,000 moves a year, we have had two Federal Motor Carrier Safety Administration (FMCSA) complaints in each of the last two years. You can and should check any carrier's record at the federal government's website where complaints are reported.
How much tolerance do you have for damage to your furniture or residence? What about a stolen credit card? Read the fine print for details on how damages or charges will be reconciled. Some household goods companies waive liability, some offer minimal and/or deferred compensation, and others like JK Moving provide full replacement coverage in the event of a claim. If you are moving expensive or heirloom items, you may decide that not having full replacement coverage is a deal killer.
How critical is it that your mover keeps its scheduling commitments? If you absolutely must have it on a certain day, are you confident the mover will meet those expectations?
I was on a flight recently and reluctantly got drawn into a conversation with the guy sitting next to me. Turns out, he was relocating. When he found out who I worked for, I was pleasantly surprised to learn he was using my company specifically because of our proven commitment to deliver on the day we commit to. He knew this, he said, because we had done so on a previous move, despite multiple obstacles that likely would have deterred others. "When I learned I was moving again, I would only use your company," he said.
When making the decision about who to trust with your relocation, consider your expectations for service, price and risk tolerance. Check references and reviews and talk to colleagues. There's a reason JK Moving consistently earns the highest government rankings and why corporations around the globe choose us.