The Post-Pandemic Work from Home Survey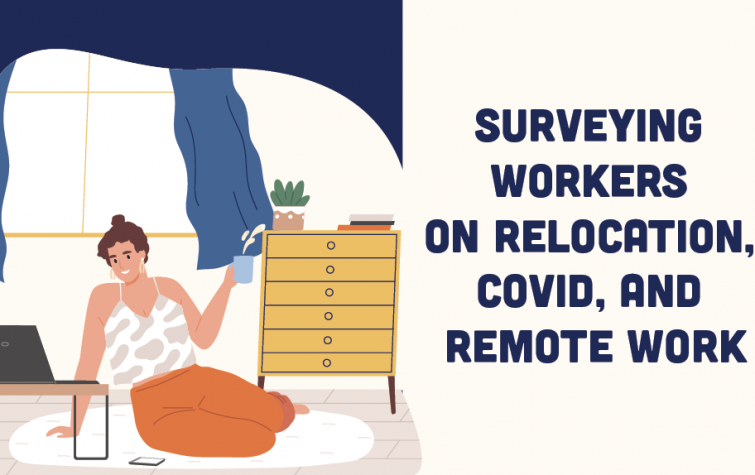 What's your work-from-home habitat? Have you carved out a little office nook? Or maybe claimed a corner of the kitchen table as your own? Regardless of how you work remotely, you've probably become quite accustomed to the new normal of remote work by now.
However, as more people are vaccinated, workplace social distancing requirements are changing, and many companies and individuals are now faced with the decision of whether or not to continue working remotely. How has the work environment been altered by the Covid-19 pandemic, and how will people continue to navigate remote work and relocation changes?
Methodology
To get a sense of how work environments across the country have changed and what the future of remote work may be, our team conducted a survey of over 1,100 people.
Read on for our insights into remote work trends, dream locales from which to work remotely, and more!
The Pandemic's Impact on Workspaces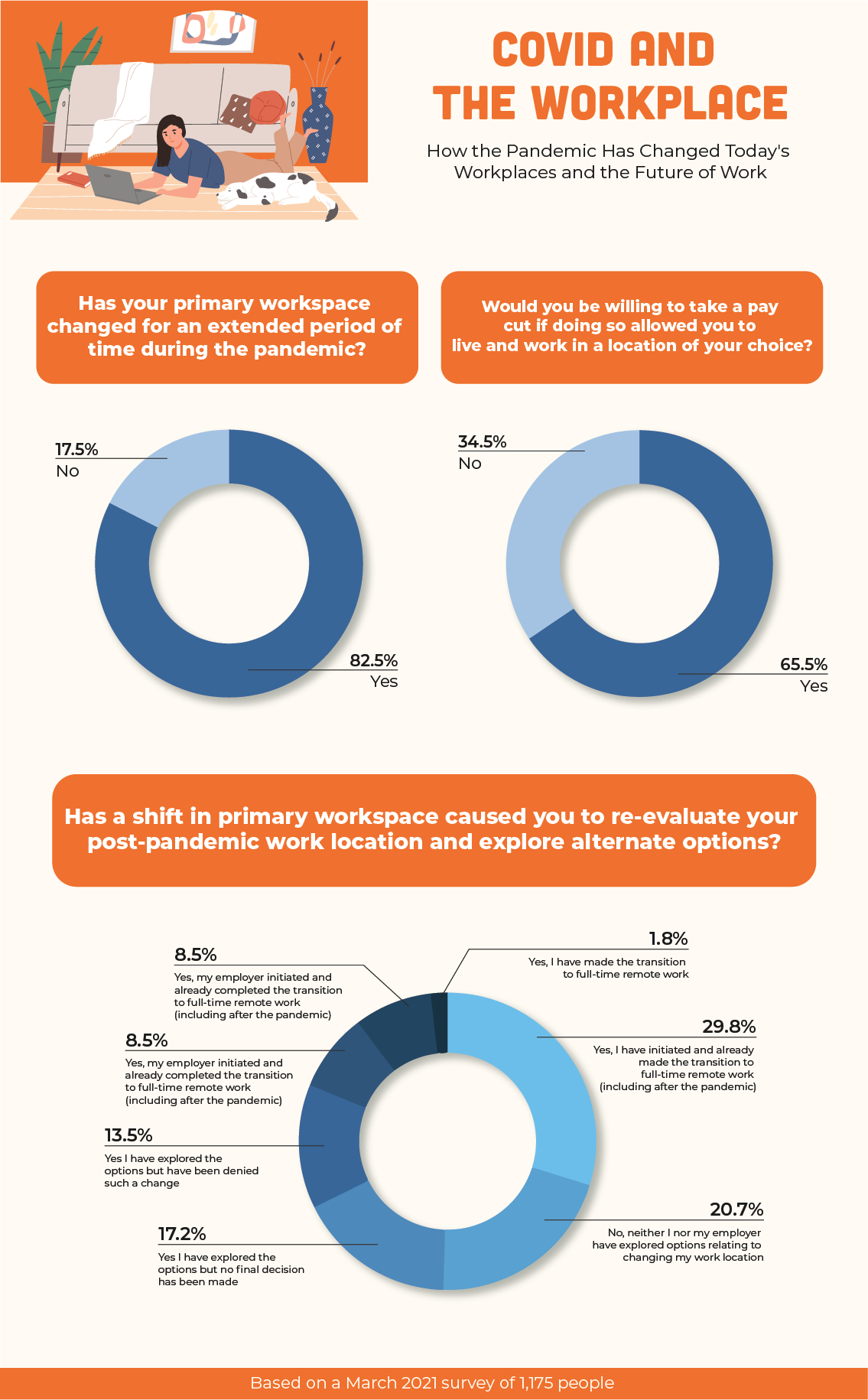 Since the beginning of the pandemic, 82% of employees have experienced a workplace change. For this majority group, extended periods of remote work prompted planning for a future of remote work. Nearly a third of employees have already made the transition to full-time remote work beyond the pandemic. Another 8.5% of employees have employers initiating a permanent transition to full-time remote work.
But while employers may be initiating full-time remote work and employees may be following suit out of necessity, remote work may not be everyone's preference. To see just how strongly people felt about their remote work preferences, we asked if they'd be willing to take a pay cut to continue working remotely. A majority of respondents, 66%, said they would agree to lose some pay if they could work remotely in any place of their choosing.
Remote Work: Not Just for the Home Office

Many of us have relocated for a new job opportunity or closer proximity to our workplace, but the rise of long-term remote work may mean we don't have to choose between a dream job and a dream location. So, where would people choose to work if given the option?
About 75% of people working remotely in the long term would consider moving from their current city to somewhere else in the country or world. 40.7% of people would be willing to move to a different city that is less than three hours away from their current home. While nationally, each region of the United States had an even percentage of respondents who would consider relocating there for remote work, only 18.2% of respondents would choose to live in North America if given the opportunity to live elsewhere in the world. Globally, most respondents would choose to live in Europe (28.7%).
When asked what factors would motivate post-pandemic moves for remote workers, 64% of respondents selected the promise of more affordable costs of living in a different place. Other top motivators were better weather, proximity to family, and proximity to outlets for hobbies, like sports.
International Relocation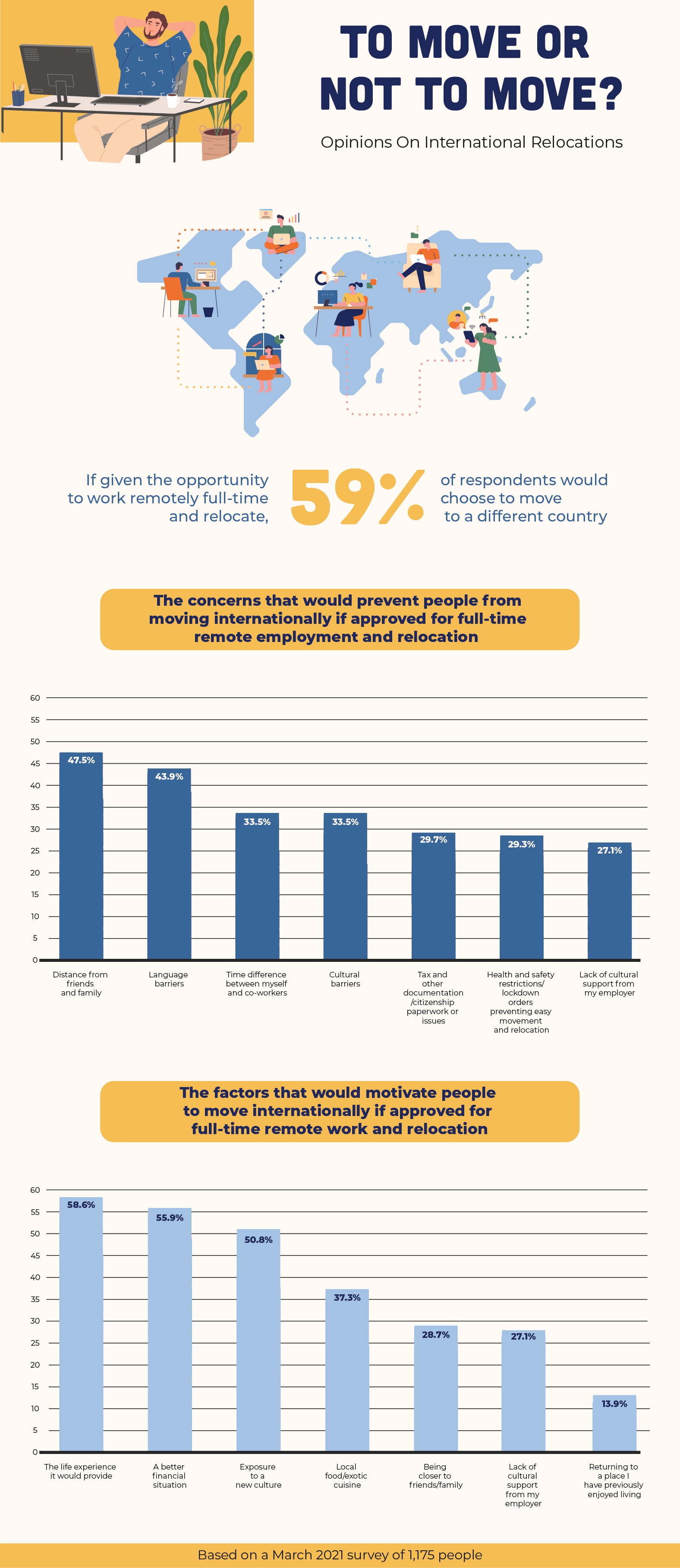 We were surprised by how many people seemed interested in moving outside the United States—nearly 60% of respondents said that their first pick for a remote-work relocation would involve moving to a new country—so we took a closer look at why respondents were so enthusiastic about international relocation.
When asked what would encourage employees to take on an international move while remote working, the top most attractive factors were a better life experience (58.6%), a better financial situation (55.9%), and exposure to a new culture (50.8%).
On the other hand, strong deterrents for an international move included distance from family and friends (47.5%), language barriers (43.9%), and complications related to time zones (33.5%). Notably, around 27% of respondents said that they would move to a new country due to lack of cultural support from an employer in their current country. This response reflects a greater trend in globally-focused human resource conversations around how to encourage a respectful corporate culture with international employees.
Employer Support for Relocation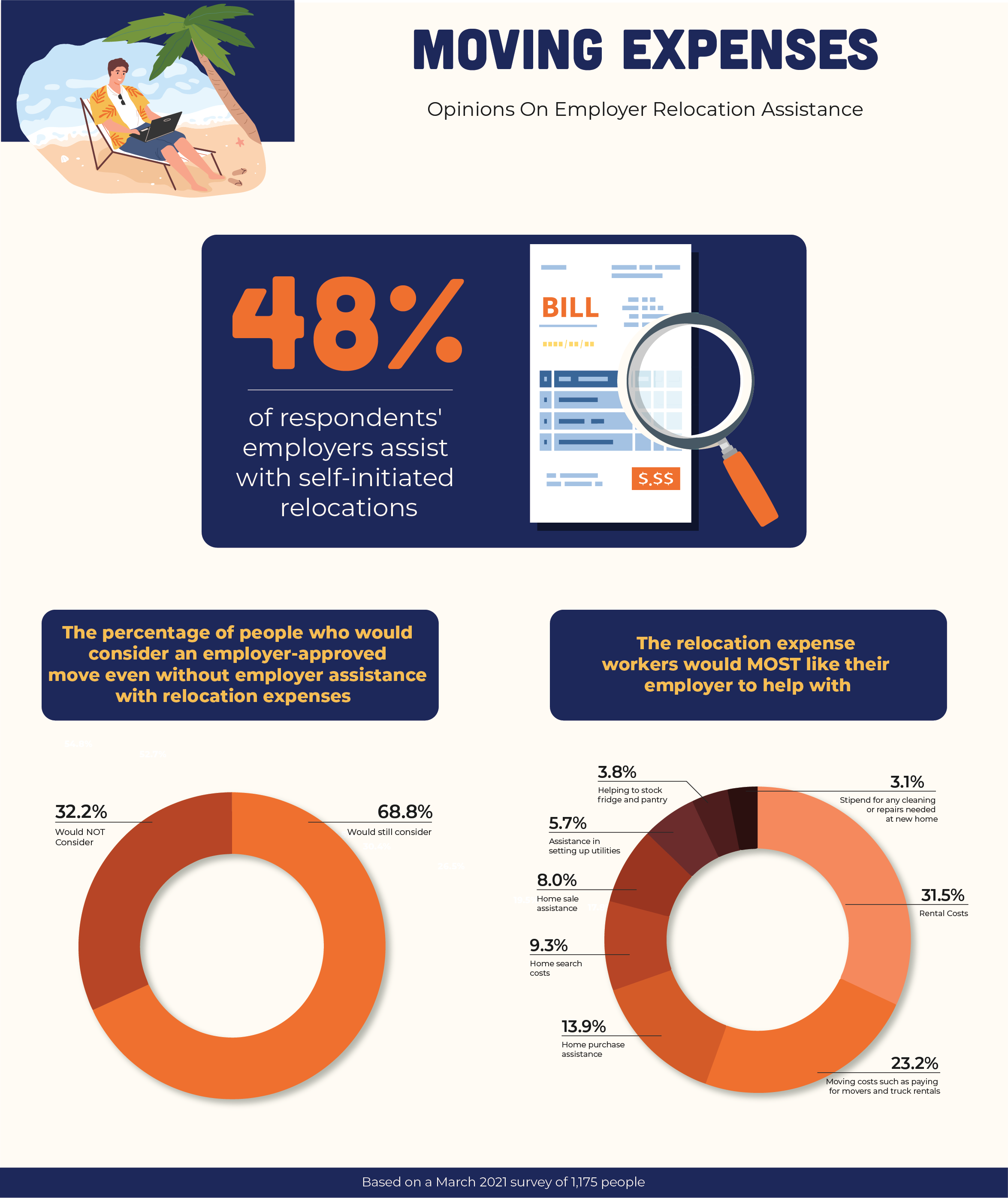 Employees may be considering relocations, but what role do employers play in that decision? A slight majority of respondents say their employers do not assist with self-initiated relocation. However, over 68% of respondents would still consider relocating—even without assistance.
Still, employer support is no less sought-after, especially when it comes to relocation finances; many employees would welcome assistance in the form of rental cost coverage (31.5%), moving cost coverage (23.2%), and home purchase assistance (13.9%), followed by administrative assistance like home sale and utility set-up.
Remote Work Productivity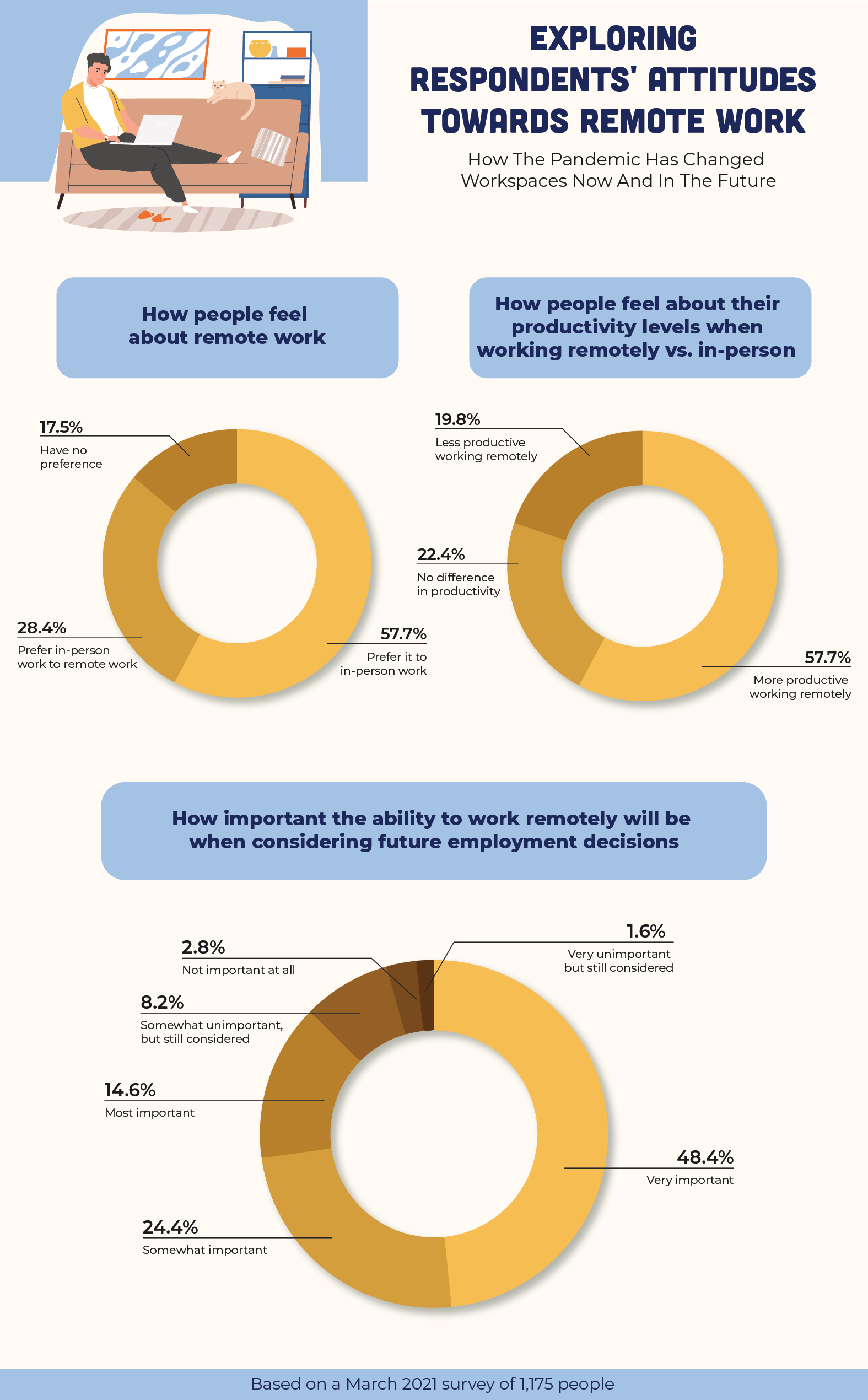 Remote work can certainly be transformative for employees' lives, especially when it means increased proximity to family or the freedom to explore parts unknown. But what impact do those changes have on employees' ability to be productive?
The majority of survey respondents (58%) say their productivity has increased while working remotely. This increased productivity and the broader benefits of remote work have almost half of respondents considering the role that the freedom to work remotely will play in future employment decisions.
CapRelo knows that many employers and companies are having conversations with employees about remote work and relocation. For any national or international relocation needs that companies encounter, CapRelo is here to help by offering the global mobility tools employers need to help their employees live and work productively and successfully—no matter where in the world they may be.