Future Proofing Your Global Mobility Business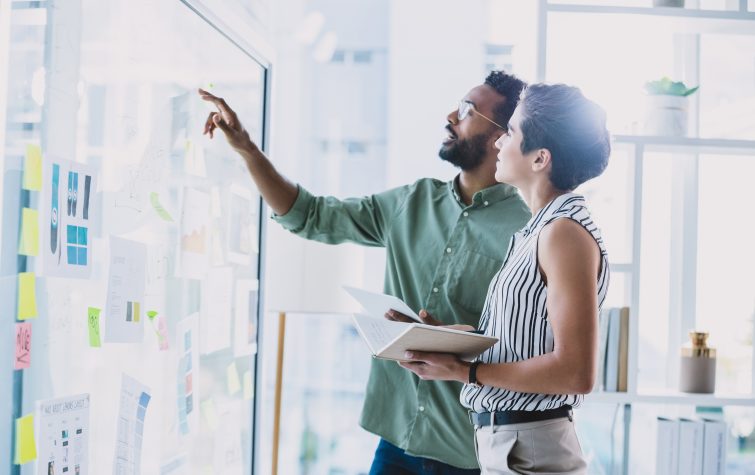 If COVID disruptions weren't already enough of a challenge for global mobility business leaders to traverse, we can now add in the Great Resignation, a supply chain in disarray and an unpredictable business outlook going into 2022.
It is enough to exhaust even the most stalwart CEOs among us. But the show must go on, as they say, and if our companies are to thrive into 2022, it's up to us to set them up for that success. How do we start future proofing our global mobility businesses now? I suggest we begin by answering some fundamental questions.
Does our organization have the right people, with the right skills, in place?
To say that the pandemic has taken a toll on the workforce is an understatement. Since the onset of COVID, we've watched as more than 1 million workers exited the workforce, according to the Bureau of Labor Statistics. The Great Resignation and Great Retirement are leaving great holes in our organizations' bench strength, no doubt.
But consider this: A recent Harvard Business Review article notes that in actuality, "less than 5% of an organization's roles account for more than 95% of its ability to execute on its strategy and deliver results."
Our challenge as global mobility business leaders is, first, to know which 5%. And second, our focus must be on helping ensure those workers are equipped with the right skills our companies will need in the future. Yes, technology (see below) will be on the list. But our businesses will thrive only if our people also embody critical soft skills.
Did you know that 19% of workers say they would leave their job for the opportunity to create new skills? And soft skills are just as valuable to them as tech training, according to the same Prudential research. "Workers think soft skills, such as adaptability, people management and time management, will be most useful in both the short and long-term future," researchers said, noting that technical training is about as important to workers as training in writing and strategic thinking.
Do our values resonate with reality?
Like your organizations, CapRelo has a set of core values that we live and work by. Those six concepts form the foundation of who we are and how we want to treat each other and our clients.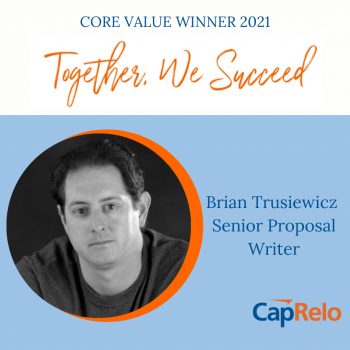 This year, we launched CapRelo's first annual Core Value Awards to honor employees who go above and beyond in embodying our core values. People like Senior Proposal Writer Brian Trusiewicz who was awarded for our "Together We Succeed" value. "In business development, we receive crazy requests from RFIs and RFPs with tight timeframes," said his colleague. "Not only does Brian know his role, but he also understands how as a team, together we succeed."
In future proofing our businesses, we as leaders have to continually assess whether the values we espouse truly do play out in reality.
Are we technologically up to the task?
With all the changes happening in our world, none compares with the speed and magnitude of advances in technology. Staying ahead of the technology curve is no easy task, but is a prerequisite for future proofing.
Our business of relocation management hinges on having tech-savvy people, processes and tools that can safely move employees around the globe. Long ago we recognized that global mobility leaders want a partner that delivers customized, technology driven solutions. Solutions that are compliant, flexible, transparent, measurable. We also know that tech solutions are not innovated without the right people.
Demand for tech talent is growing exponentially. US job postings for machine learning positions alone jumped 417% from 2015-2019 according to Bain Research. "Companies that fail to recruit and retain great tech talent are bound to lose their edge," Bain notes, "cede ground to competitors, and, in many cases, fade away."
Have we baked in the flexibility that unpredictable times demand?
Agility. Nimbleness. Flexibility. Those will be the hallmarks of businesses that adeptly maneuver these unpredictable times. They are the traits as leaders we should embody, and applaud in others.
As the world begins to reopen to business, global mobility leaders will be expected to implement with flexibility. Relocation programs will change. Global and regional policies will shift. Technology will evolve. And global companies must be prepared to scale as needed. Unpredictable times demand imaginative leadership. And trusted partners who listen, plan and innovate.